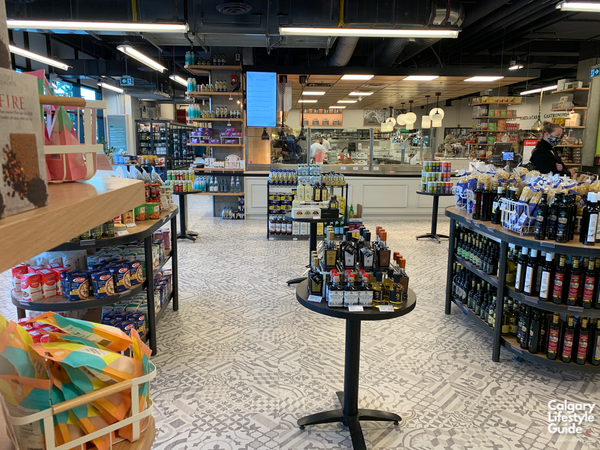 Are you looking for the best Italian groceries in Calgary? Then you must check out Lina's Italian Market. This long-standing Italian market in Calgary has been offering an authentic, traditional Italian experience for over 28 years now.
Loyalty to Lina's is so strong that some staff have stayed with the company from its very beginning. That says a lot about the company.
What is Lina's Italian Market like?
Each location has a cafe and cappuccino bar with so many delicious pastries, hot lunches, pizza slices and sandwiches created by Lina's Executive Chef Manuel Panfili that you need to try!
And don't forget about the deli, groceries, bakery, freshly made ready-to-go dinners (lasagna, pasta, etc), homemade pasta sauces (try Alfredo or four-cheese sauce), grated cheese, and desserts (their amazing tiramisu), and other authentic products straight from Italy and other places in Europe.
Lina's Italian Market also supports locally made products and businesses, so you will find a selection of local YYC products there too. The McKenzie Towne location also offers Adele's Flowers located in the corner of Lina's Italian Supermercato.
Lina's Italian Market in Tuxedo Park
The first Lina's Italian Market location in Tuxedo park is filled with the Italian charm of this quaint Calgary community.
This location has the best authentic Italian pizza in Calgary with the largest slices. I also recommend their Tiramisu that's ready to go. It's one of the best in Calgary!
It's good to know that Lina's Italian Market also delivers their groceries, meals, kits, meat, pizzas, cakes, pastries and other delicious items.
Where to buy the best pizza dough in Calgary?
At Lina's, of course! They make the freshest authentic pizza dough in Calgary every single day! It's the easiest and the best pizza you can make at home!
The dough is easy to work with, and I've made many pizzas, cinnamon buns and piroshki (Russian buns stuffed with savoury (meat, cabbage, etc) or sweet filling (apples, berries, etc).
Lina's Deli (Cheese and Meat)
At Lina's Italian Market, there are hundreds of varieties of cheese and cold cuts available with certain products rotated monthly.
The following cheeses are available at Lina's Italian Market: Burrata, Mozzarella Fior di Latte, Mozzarella di Bufala, Parmigiano Reggiano Vacche Rosse, Manchego cheese, St. Agur, Stilton, Truffle Pecorino, Feta, and many others.
Here are your deli selections: Prosciutto di Parma (18, 24, 30 months aged), Mortadella imported from Bologna, Porchetta, Truffle Salami, Fennel Salami, Napoli Salami, Calabrese Sopressata, Parma from 12 to 36 months aged, Centenar Prosciutto, Salsichon, Piacentino, Sopressata Calabria, Mortadella from Bologna and others.
These products are generally imported from Italy, Spain, France, Greece, Holland, England, and USA.
Lina's Cafe and Bakery
Lina's Italian Market has a variety of delicious Italian desserts such as cannoli, tarts, Panettone (seasonal Italian Christmas bread), rum babas, croissants, scones, cookies, biscotti, vanilla slices, tiramisu, Black Forest cake, Bacio cake and cinnamon buns.
They also make their own fresh bread (including many gluten-free and vegan options!).  Don't forget about their delicious coffee, gelato and bombolini (Italian donuts).
If you want something savoury, you will find a good selection of Italian sandwiches, hot meals, pizza slices, and salads at Lina's Cafe. You can eat there or take it to go.
Entertaining/Party Trays
Entertaining is easy with Lina's. Get their homemade bruschetta (pronounced "broo-sketta") or try their charcuterie boards and party/antipasto trays. They also offer delivery.
Lina's Butcher
Did you know that Lina's butcher follows an old-school Italian secret recipe? Choose from homemade sausages, burger patties and Lina's signature meatballs, or get a custom order (order in advance) like whole porchettas (cooked or uncooked), free-range turkeys, Tomahawks steaks, spiral ham, pork, beef and chicken kebabs.
Lina's Produce
Lina's Italian Market has a substantial produce section that has a variety of local and imported food including chestnuts, figs, walnuts, fresh basil, tomatoes and other fruits and vegetables.
Locations
Now you can experience the magic of Lina's at three Calgary locations. In 2019 and 2020 Lina's has opened two new locations in McKenzie Towne, SE Calgary and Britannia area, SW Calgary.
Lina's Italian Market (Tuxedo Park)
2202 Centre St. NE,
Calgary, Alberta
T2E 2T5 | 403.277.9166
Open every day 8am-7pm (Sunday 6pm)
Lina's Italian Supermercato (McKenzie Towne)
#100, 4916 130th Ave SE,
Calgary, Alberta
T2Z 0G4 | 403.523.7713
Open Sunday to Thursday 8am-7pm and Friday & Saturday 8am-8pm
Lina's Italian Mercato (Britannia)
5108 Elbow Drive SW
Calgary, Alberta
T2V 1H1 | 403.454.8323
Open every day 10am-7pm
Click on the photo to enlarge it.
Summary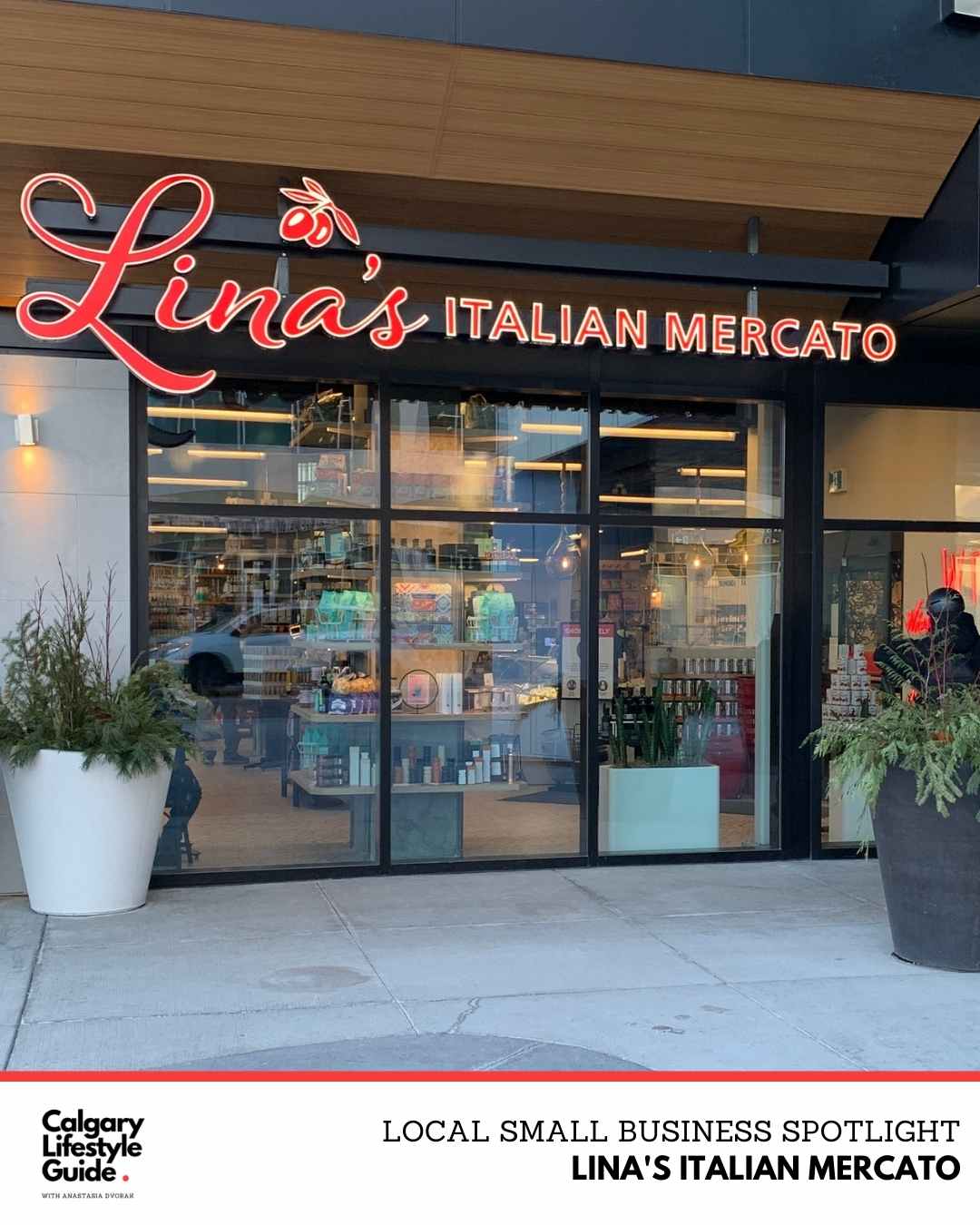 Article Name
Lina's Italian Market: The Best Place for Italian Groceries in Calgary
Description
Learn about Lina's Italian Market: the best place for Italian groceries in Calgary. Visit this Italian grocery store in Calgary.
Author
Publisher Name
Calgary Lifestyle Guide with Anastasia Dvorak
Publisher Logo