Are you looking for the best Japanese restaurant in Calgary? Are you craving the best sushi in Calgary? Here is the list of 8 Best Calgary Sushi restaurants that you just have to try for yourself! Whether you like traditional sushi, sushi rolls, sashimi and Japanese cuisine, these places will not disappoint! Now let's get started!
Best Calgary Sushi Restaurants/Best Calgary Japanese Restaurants:
Sushi Bar Zipang
Red Ember Japanese Cuisine
Big Catch Sushi Bar
Globefish
Shibuya Izakaya
Hana Sushi
Kinjo Sushi & Grill
Point Sushi (Bullet Train Sushi)
1. Sushi Bar Zipang
Do you like thick, delicious, melt in your mouth sashimi? Zipang is known for the freshest and most generous slices of sashimi you'll ever try!! This Calgary sushi restaurant is also famous for having the cleanest cuts in the city and for using fresh fish from Japan that other sushi restaurants do not carry. The Chef and the owner Naoya
Umino has spent years perfecting the art of sushi in Yokohama, Japan. He even passed the written and cutting exams for fugu, the poisonous fish, and held a licence to prepare it (this fish is not available in Canada).
Their rolls are also one of the best in the city. It's my go-to sushi hot spot and the #1 on my list of best sushi restaurants in Calgary. I have personally witnessed multiple acts of kindness and thoughtfulness from the owner Naoya, and I am so grateful that we have a restaurant that cares a lot about its customers and their experience. Zipang has also been in business for over 14 years now! If you've never been there, it's a must-try! Reservations are highly recommended as this Calgary Japanese restaurant is very popular.
2. Red Ember Japanese Cuisine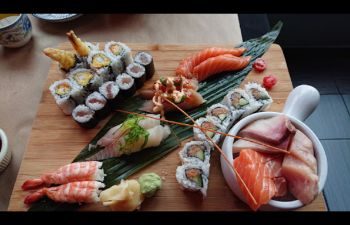 Red Ember is known for its excellent service and large portions of their delicious Japanese food. Your sashimi will be served on ice chips and your rolls will be very filling, so order wisely! This Calgary sushi restaurant has a couple of nice comfortable booths and is perfect for a date night. The only tricky part is parking, but this restaurant is worth it!
3. Big Catch Sushi Bar
If you are looking for an aesthetic experience and want to impress your date with delicious Calgary sushi, then you must try Big Catch Sushi Bar. It is known for sushi with a contemporary twist. Big Catch has the most beautiful sushi in Calgary, and if you value presentation, then you need to check out this Japanese restaurant.
4. Globefish
Globefish has two locations in Marda Loop and Chinook Centre. It was started by Koji Washiyama and Masashige Fujii and is now a popular spot for a modern-day izakaya (Japanese tapas). They have traditional sushi and also a variety of creative sushi rolls. It is also one of the earliest izakayas to open in Calgary with fresh cuts of fish and excellent customer service. Globefish is one of the few places that serves sushi burritos!
5. Shibuya Izakaya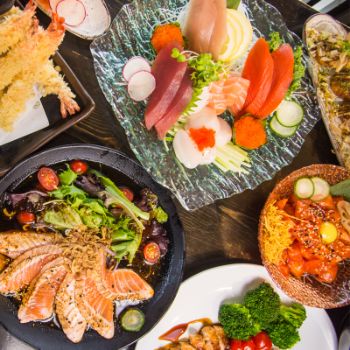 Shibuya Izakaya was founded in 2007 and is named after a famous Tokyo station, the Shibuya station. This Calgary sushi restaurant is focused on a casual and relaxing atmosphere mixed with Japanese tapa-style dishes, sushi, sashimi and different types of sake. It has been featured in many local newspapers and blogs and is definitely a place to check out!
6. Hana Sushi
Hana Sushi was founded in 1997 by Japanese Chef Matsumoto, and it's one of the longest standing Calgary sushi restaurants. With 30 years of experience under his belt, Hana Sushi is a popular sushi destination.  Hana's motto is "any fish fresher would still be in the ocean."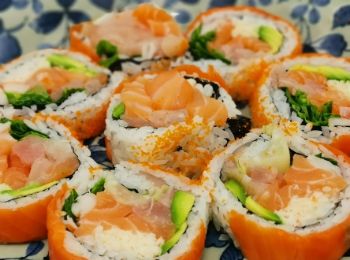 This Calgary sushi restaurant is known for its classical fish handling technique and attention to detail. Hana Sushi has recently opened a location in the West (it is very popular, so expect longer waiting times!), so if you don't want to drive all the way to 4th street, you should check out that new location!
7. Kinjo Sushi & Grill
According to Kinjo's owner Peter Kinjo, Kinjo's goal is to be the 'McDonald's of sushi restaurants'. Kinjo Sushi & Grill is a casual, child-friendly Calgary sushi restaurant is known for its speedy service and very relaxed attitude. They will even sing you a song on your birthday, and every woman and child who eats at Kinjo gets a free box of Pocky Sticks to take home.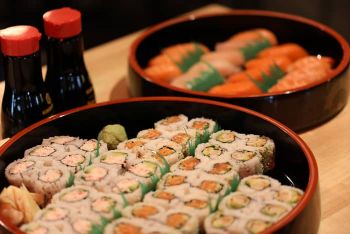 You won't find Red Seal Chefs here or sophisticated Japanese cuisine. The rice balls are made by a rice ball maker – not a sushi chef who trained for a few years to make the perfect rice ball. This place is casual, cheap, and satisfying if you like rolls and a relaxed atmosphere. Sometimes you just need a basic sushi joint, and this is exactly what you need.
Since 2005, Kinjo's have expanded and now have 6 city-wide locations. If you've never tried sushi before and you don't like fancy restaurants, this is the place to check out. This place is also very child-friendly, so don't be scared to bring your loud toddlers. Peter Kinjo is focused on making sure the kids get the best service, so don't worry about the mess and bring your kids. I would definitely recommend this place for families.
8. Point Sushi (Bullet Train Sushi)
Do you want to experience sushi as if you were in Tokyo? Here is your chance. The experience is a MUST. If you like Calgary sushi, you must check out Point Sushi. The experience is worth it! There is no server (they are there in case you need help but you only talk to them at the end of the meal when you pay for it). You order everything on an iPad (it's very easy!) and it gets delivered via a bullet train. It was so much fun!
Did I miss your favourite Calgary sushi spot? Read below.
We've just covered 8 Best Calgary Sushi Restaurants. I had to satisfy my sushi cravings a couple of times during the process of writing this article. Calgary Sushi Restaurant scene is growing every year. There is always a new sushi/Japanese place to try! I am sure that everyone has their favourite sushi place in Calgary, and if I've missed your favourite spot and it's not on this list, please write me a comment, and I'll make sure to check it out and add it to the list in the future!
Summary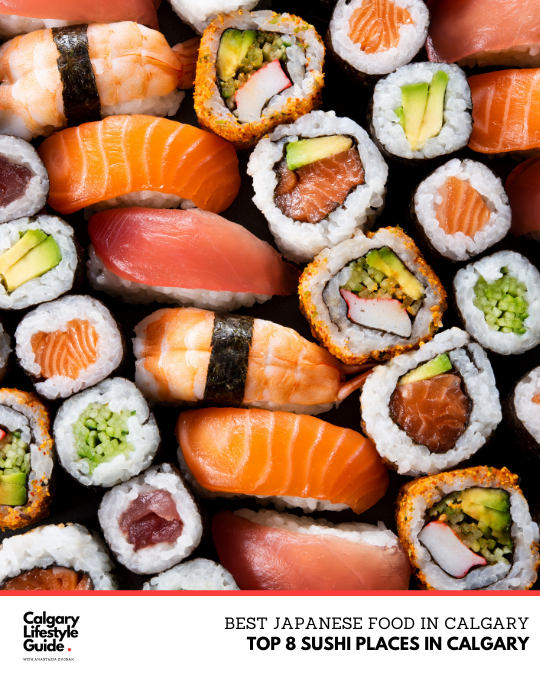 Article Name
Best Sushi in Calgary: Best Japanese/Sushi Restaurant in YYC
Description
Are you looking for the best sushi in Calgary? Here is the list of 8 Best Calgary Sushi restaurants that you just have to try for yourself!
Author
Publisher Name
Publisher Logo