Did you know that the value of the organic food market in Canada was worth around 7 billion in 2020? It's no wonder that organic food is popular in Calgary. Here are the Top 5 Best Calgary organic food stores/organic grocery stores where you can satisfy all of your organic and natural food cravings in Calgary.
Community Natural Foods
Community Natural Foods is Calgary's oldest organic establishment that was started by Wilkes brothers in 1977. It has its own café with fresh juices, healthy food, and delicious smoothies, and currently carries over 15,000 products. The customer service is amazing, and it is one of my favourite stores in Calgary.  Community Natural Foods has a membership program that offers discounts to
members on a variety of products. For some items, I find it more affordable than other stores.
In general, the prices for each organic grocery store vary; some things are more expensive at one store vs others and vice versa. Some stores feature very unique brands and products that you can't find at the competitor's store. Every organic grocery store in Calgary offers a great selection of fruit, vegetables, fish, meat, supplements, body and home care products.
Community Natural Foods has been recently purchased by Calgary CO-OP, but it seems that this expansion is not going to affect the core values of Community Natural Foods and will only expand CO-OP's natural selections. You can find a great variety of products there, from deli to dairy. Everything is organic and locally sourced.
According to Community Natural Foods, "as the organic revolution grew, the original store on 11th Avenue SW was outgrown and CNF moved to the corner of 14th Street and 10th Avenue SW. Consumer demand later led Community to relocate to its current location, less than a block away at what is now our 10th Avenue Market and Cafe. In 2000, Community expanded yet again and opened its Chinook Station Market located at 202 61 Ave SW. In April 2013, Community opened its third location the Crowfoot Market located at 850 Crowfoot Crescent NW."
The company has 3 locations in Calgary:
Crowfoot Market
850 – Crowfoot Crescent NW, Calgary
Chinook Market
202 – 61 Avenue SW, Calgary
10th Avenue Market & Cafe
1304 – 10 Ave SW, Calgary
Store Hours:
Monday – Saturday: 9:00am – 9:00pm
Sunday: 9:00am – 7:00pm
Blush Lane
Blush Lane opened in 2012 and "now carries an exceptional variety of organic and natural groceries, raw and vegan foods, gluten-free and vegetarian products, and farm-direct produce from the Blush Lane Organic Orchard and local farmers" (source: Blush Lane website). In addition to its 4 Calgary locations, it also has an organic orchard in British Columbia. Blush Lane mentions on their website that this allows them to fully control the process, from "seed to store" and offer its customers a variety of home-grown, fresh produce.
You can also visit BE Fresh Cafe inside of Marda Loop's Blush Lane store. I like Blush Lane because they have
many specialty items that make it worth a visit.
The company also offers Market Reward Points. When you spend 1 dollar on most regularly priced products at Blush Lane, you collect 10 reward points ($1 = 10 points).  You then receive points for a discount off of your Blush Lane purchase.
You can redeem 5,000 points to get an extra $5.00 off your Blush Lane purchase (5000 points = $5.00). Or, you can redeem 5,000 points to give $5.00 to charity.
Blush Lane store in Marda Loop is beautiful, and you should definitely stop by if you are in the area.
Marda Loop, Calgary 
2044 33 Ave SW
Hours: 9am-9pm
Bridgeland, Calgary
617 Meredith Rd NE
Hours: 9am-9pm
Aspen Woods, Calgary
3000-10 Aspen Stone Blvd SW
Hours: 8am-9pm
Calgary Farmer's Market
510 77 Ave SE
Hours: 9am-5pm Thursday-Sunday
Sunnyside Natural Market
Sunnyside Natural Market is a locally owned, family-operated, community-focused natural market. It's located in the heart of Kensington right next to Safeway and Sunnyside Ctrain station. What I love about this market is that it's sharing space with Sidewalk Citizen Bakery that has the most delicious chocolate croissants I've ever tried, and, of course, they have many other pastries that would satisfy all of your cravings.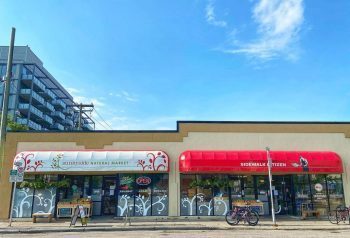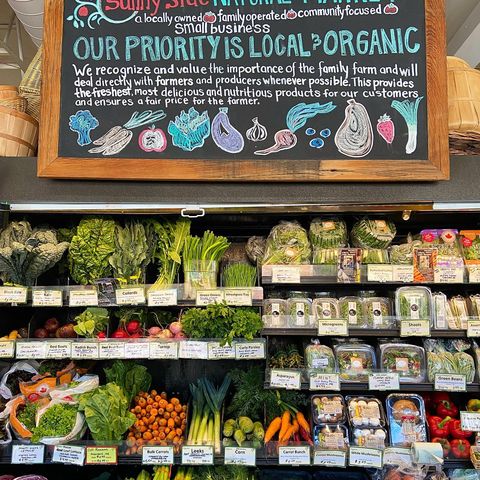 Local and organic vegetables, hormone-free meat, organic dairy products, locally created baked goods, organic grocery products, natural health and wellness products, and lifestyle/diet products such as gluten-free and vegetarian/vegan are among Sunnyside Natural Market's specialties.
Sunnyside Natural Market focuses on local and organic products and deals with local farmers and producers directly whenever possible. They try to stock the freshest, local produce and other products. I highly recommend visiting this cozy market in Kensington.
Address: #10, 338 – 10th Street NW, Calgary, AB T2N 1V8
Hours: Weekday – 9:00AM – 7:00PM
Saturday – 9:00AM – 7:00PM
Sunday – 9:00AM – 7:00PM
Holiday – 9:00AM – 6:00PM
Planet Organic (UPDATE: Planet Organic has been shut down in Calgary)
Planet Organic was "founded by husband and wife team Mark and Diane – pioneers in organic living and dedicated environmental activists – in Edmonton in 1993" (source: Planet Organic website). There are 5 locations in Calgary, 4 locations in Edmonton, 1 Location in Victoria, and 1 location in Port Credit (Ontario). They have locations strategically located across the City of Calgary so that they are not in direct competition with any other organic store nearby.
I love Planet Organic's desserts, their delicious bakery and deli items.  They have dedicated in-house chefs that prepare house-made deli items fresh daily to their customers. They also have a large cosmetic department and a variety of soaps, skincare, and supplements make it easier to shop for items all in one area. They also host many local events that incorporate experts who speak about holistic medicine, health or nutrition.
Calgary Locations:
Shepard Market
4916 – 130 Avenue SE, #100
Hours: 8am-10pm
Calgary North Market
4626 Varsity Drive NW
Hours: 8am-10pm
Calgary Royal Oak
8650 – 112 Avenue NW, #6112
Hours: 8am-10pm
Elbow Market SW
10233 Elbow Drive SW
Hours: 8am-9pm
Britannia Market
5112 Elbow Drive SW
Hours: 8am-10pm
Amaranth
Amaranth's founder, Ken Klatt, was inspired to start his own organic store after an awkward experience shopping at the local organic store while wearing a suit. Ken saw a need for "a new kind of health food store- one that welcomed everyone".
Ken was also a part of a small group of Calgarians who were passionate about recycling glass and paper. Ken also served several terms as a director for the Earth Harvest Co-Op prior to starting his own business.
The first Amaranth store was opened in the early 1990s and now there are 3 locations in Calgary that serve different needs. The downtown Calgary location has grocery items, produce,  a small selection of supplements and wellness products, and delicious salads, sandwiches and coffee you can take to go. Calgary SE location has a good selection of specialty products including paleo, keto, sugar-free and more. Arbour Lake location is the flagship store that has everything you need (source: Amaranth website).
I love the fact that Amaranth has a great variety of tortillas, gluten-free, keto products, healthy snacks, and an extensive supplements section.
Amaranth has 3 locations in Calgary:
Arbour Lake NW
7 Arbour Lake Drive NW
Monday-Friday: 9:00 AM – 8:00 PM
Saturday: 9:00 AM – 6:00 PM
Sunday & Holidays: 10:00 AM – 5:00 PM
Calgary  Downtown
1407 4th Street SW
Monday-Friday: 9:30 AM – 8:00 PM
Saturday, Sunday & Holidays : 10:00 AM – 6:00 PM
Calgary SE
5222 130 SE
Monday-Friday: 9:30 AM – 7:00 PM
Saturday, Sunday & Holidays : 11:00 AM – 5:00 PM
Safeway, Real Canadian Superstore, CO-OP, No Frills, Costco, Wal-Mart, Save on Foods, and everything else
Organic food doesn't need to be expensive. I found some great deals at our typical grocery stores such as Safeway,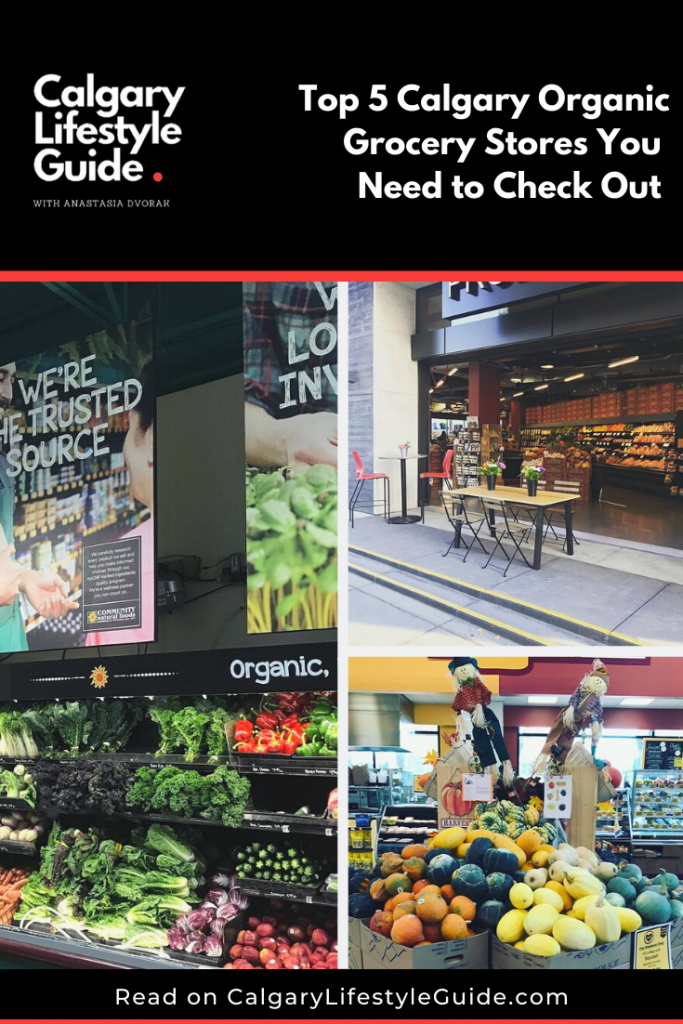 Superstore, CO-OP,  No Frills, Costco, Save on Foods, etc. Most stores now offer organic selections in almost every aisle. Every aisle of the store will most likely have an organic alternative. Some stores such as Superstore have a dedicated aisle where they showcase a variety of natural products.
Over the years I've noticed the increase in the availability of organic products in local Calgary stores. Most stores will support almost all alternative diets/lifestyles, and this trend is on the rise as people are more conscientious of what they are eating and where their food is coming from. Organic food trend continues to flourish, and I look forward to the day Calgary will get its own Whole Foods!
What about you? What is your favourite grocery store and why?
Reply in the comments or tweet me @YYCLivingGuide or follow me on Instagram @CalgaryLifestyleGuide.
Summary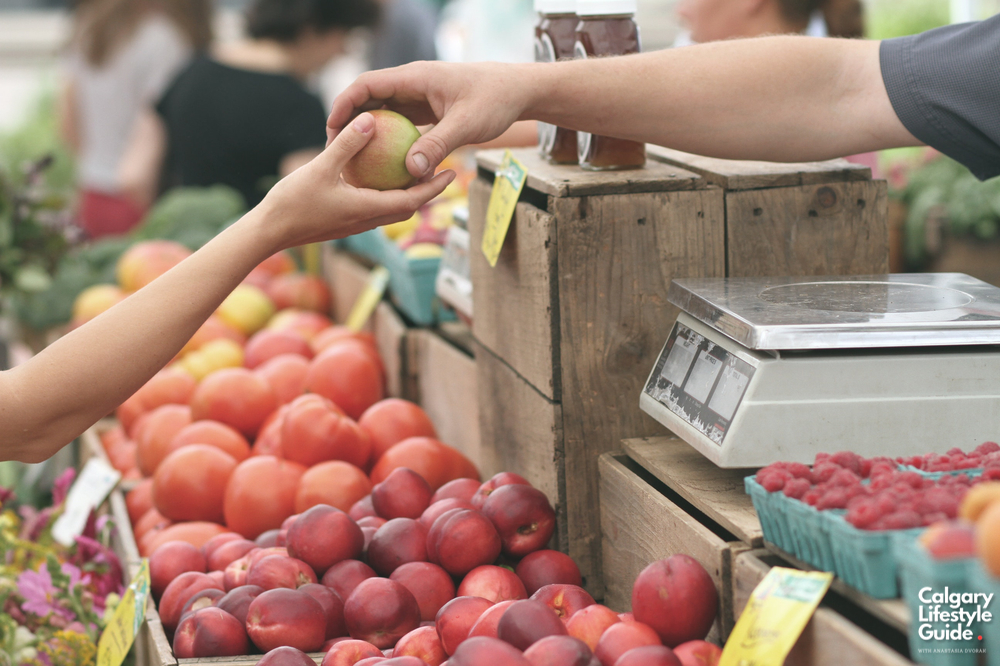 Article Name
Top 5 Best Calgary Organic Food Stores/Organic Grocery Stores You Need To Check Out
Description
Learn about Calgary Organic Food Stores/Organic Grocery Stores such as Community Natural Foods, Blush Lane, Planet Organic, Amaranth and others.
Author
Publisher Name
Calgary Lifestyle Guide with Anastasia Dvorak
Publisher Logo