Welcome to Calgary! You've made the right choice. Calgary is a vibrant, growing city that has so much to offer! Moving to a new city is always exciting and nerve-wracking at the same time!
It's no wonder that Calgary was chosen since 2009 to be in the Top 10, and now it's in the 4th spot (2018) as the best place to live in the world (according to the Economist Intelligence Unit's Top 10 list (based on 30 different factors), and in 2010, it was chosen as the world's best eco-city. If that wasn't enough, Calgary is considered the sunniest city in Canada, "enjoying an average of 2396 hours of bright sun each year, spread over 333 days".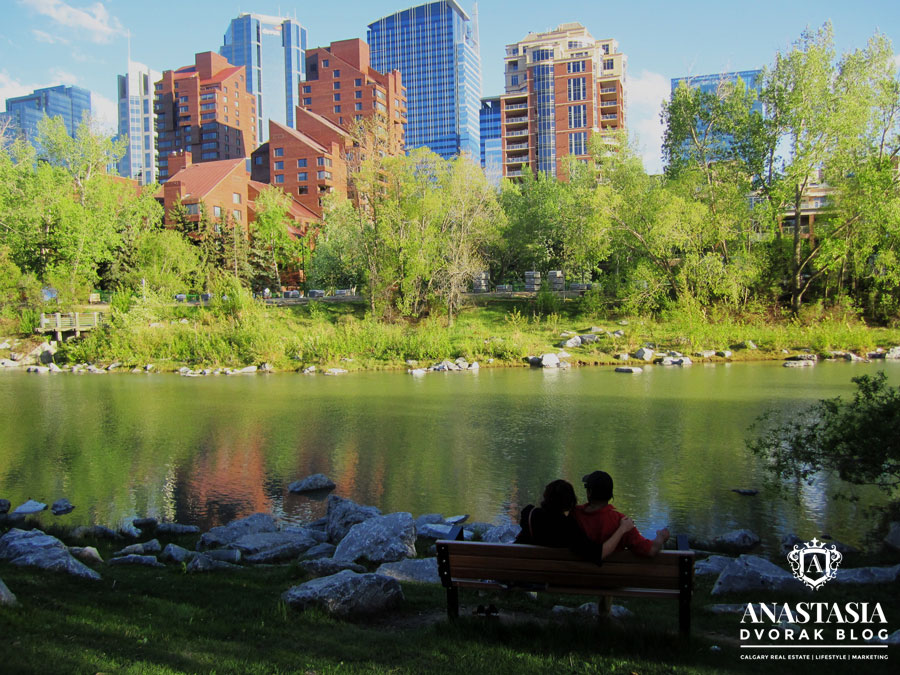 There are many things to consider when you are choosing a home. There are so many options – sometimes it's overwhelming to figure out what works for your family. Let's talk about the most important ones that will most likely influence your decision on the community you would like to live in. By going through this list below, you will be able to precisely choose the most perfect community for your family and avoid buyer's remorse.
First of all, Calgary is divided into 4 quadrants and they all have their own unique personalities! Each community has its pro and cons, and we will have an in-depth look at many of them in this blog. But for now, let's focus on the things that your Top Calgary community must have and go from that point forward.
Let's figure this out. Let's get started!
Tip #1: TRANSIT
If you will not be getting a car, access to a convenient transport is crucial when it comes to choosing your Calgary real estate property. You need to figure out how far the nearest bus stop/CTrain station is from the place where you might want to live. Imagine that 10-minute walk in -20C weather in the middle of winter
and see if it's still worthwhile it for you.
Calgary Transit website will help you figure out the distance to the bus stop, how long the trip will be, etc.
There is also a Calgary Transit iPhone app that you can download here. What I love about this app is that you can see your bus/CTrain moving in real time!
Distance to your place of work. If you have to take multiple buses to get to your workplace from your new Calgary home, it might not be the best idea to get that property as transit times vary especially during the cold winter season. Choose a place that's relatively close to the nearest CTrain station – this will always be a good selling point in case you decide to sell or rent out your property in the future.
Parking in downtown can also be very expensive, so taking the train could be an excellent option for some people.  Properties near CTrain stations usually have a better resale value and are almost always preferred by potential renters.
For example, a study of downtown Toronto property found that towers closer to subway stations sold, on average, for $475 per square foot, a full 30% more than buildings more than 500 meters away from stations.
Tip #2: SCHOOLS
If you have kids, choosing the right school for your child(ren) can be a challenging task as we have so many different options when it comes to childcare and children's education. Usually, the child will be going to a specifically designated school(s) that are connected to his/her home address.
However, if there is enough space, you can request that your children attend another school that best matches their interests. You can choose from many types of institutions: public, private, Catholic, Charter schools, French Immersion, sports schools and schools with specific specializations like Science schools.
Do you want your child to attend a public school, private school or charter school? Are you aware of the long wait times for some of the Charter schools (government-funded schools that are like private schools with uniforms but very affordable)? Do you want Advanced Placement (AP) or International Baccalaureate (IB) placement?
You should also find out if there is a reliable bus system that can take your child to their school. Is there a school bus that will service your area or would you prefer if your kids walked to their school? It's also important to remember that even if your potential new house is located within the "school walk zone", the nearest schools may not have the capacity to accept your child.
According to Calgary Board of Education website, CBE has approved "a lottery process as the most appropriate selection process when registrations exceed available space.  Walk zone plays an important role in determining priority categories for lottery acceptance – students living inside walk zones have priority for registration over those who do not." Before buying that Calgary property, make sure to double check that your children would be able to attend that particular school.
I am not going to get into this in more detail but if you want to learn everything about Calgary Schools, please read this famous article written by a local mom who researched this issue thoroughly (Schools in Calgary: A Comprehensive Guide), as it explains everything you need to know to make the best decision for your child.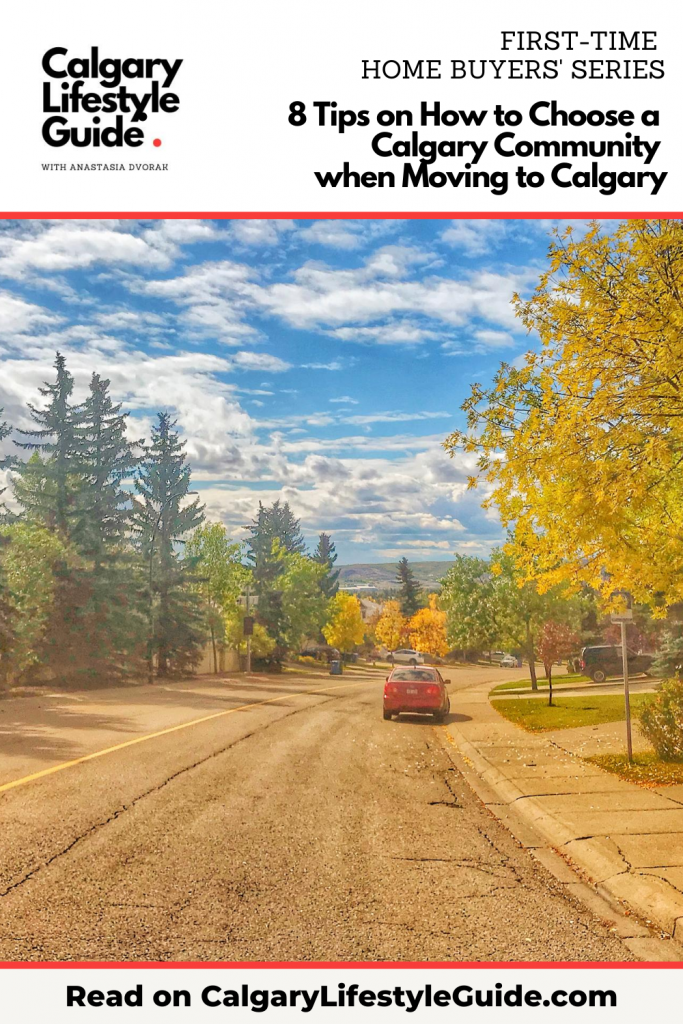 Think ahead. How long are you willing to stay in the property of your choice? If it's long-term, then consider the fact that one day your child might want to attend a post-secondary institution. When your child grows up, would it still be convenient for them to take a 45 min-1 hr transit trip or 1 hour by car to get to the post-secondary institution of their choice if you choose to live in the further SW/SE communities?
Most of the post-secondary institutions are located in NW (SAIT and University of Calgary) and SW (Mount Royal University). It will take about 40-50 minutes to get to the Downtown core from the "deep" South on a CTrain (if the weather is good and there are no delays).
If a shorter commute is important for you and your kids who might potentially attend one of the many post-secondary institutions that are mostly located in the North, you should consider a community that's located closer to educational institutions or the Downtown core.
Hold on – it's way too much information! I know it's a lot of information and can be overwhelming. The best place to start is by reading this article that provides the best overview of Calgary schools and then visiting Alberta School Rankings website (also called Fraser Institute School Rankings). This website will show you Alberta's school rankings and help you with choosing the best school for your child. Make sure to choose "Calgary" in the selection box and then either "elementary schools" or "high schools".
To learn more about Charter schools in Calgary, there is a good article on Calgary Charter Schools in Calgary Herald.
Private Schools. Also, if you are interested in private schools, you should definitely consider West of Calgary communities such as Aspen Woods, West Springs, Cougar Ridge, etc. as there are 5 private schools there that cater to different ages from elementary to high school depending on the school (Webber Academy, Calgary Academy, Calgary French and International School, Rundle College/Academy, and Waldorf).
Tip #3: PROXIMITY TO SHOPPING
Most communities have their own shopping centers with Co-Op, Sobeys, Safeway, Community Natural Foods (Organic Store), Blush Lane (Organic Store) and others stores like Chapters, Petland, Starbucks, etc. Some communities (for e.g. Valley Ridge, Discovery Ridge,  or Crestmont) do not have a grocery chain. It will take you about 10-12 minute drive to get to a grocery store from Crestmont or Valley Ridge.
However, Valley Ridge is one of my favourite communities with amazing potential. A new shopping development "Trinity Hills" has been proposed (opening Spring 2019) and will offer various shopping opportunities including a major grocery chain store – Save-On-Foods.
If that's too long of a wait and if it's a deal breaker for you, then choose your community that already has everything you need. In the Google Maps section, google "shopping" or "grocery" + the name of the community you are interested in. Here is an example that will show what Arbour Lake NW community has in terms of shopping.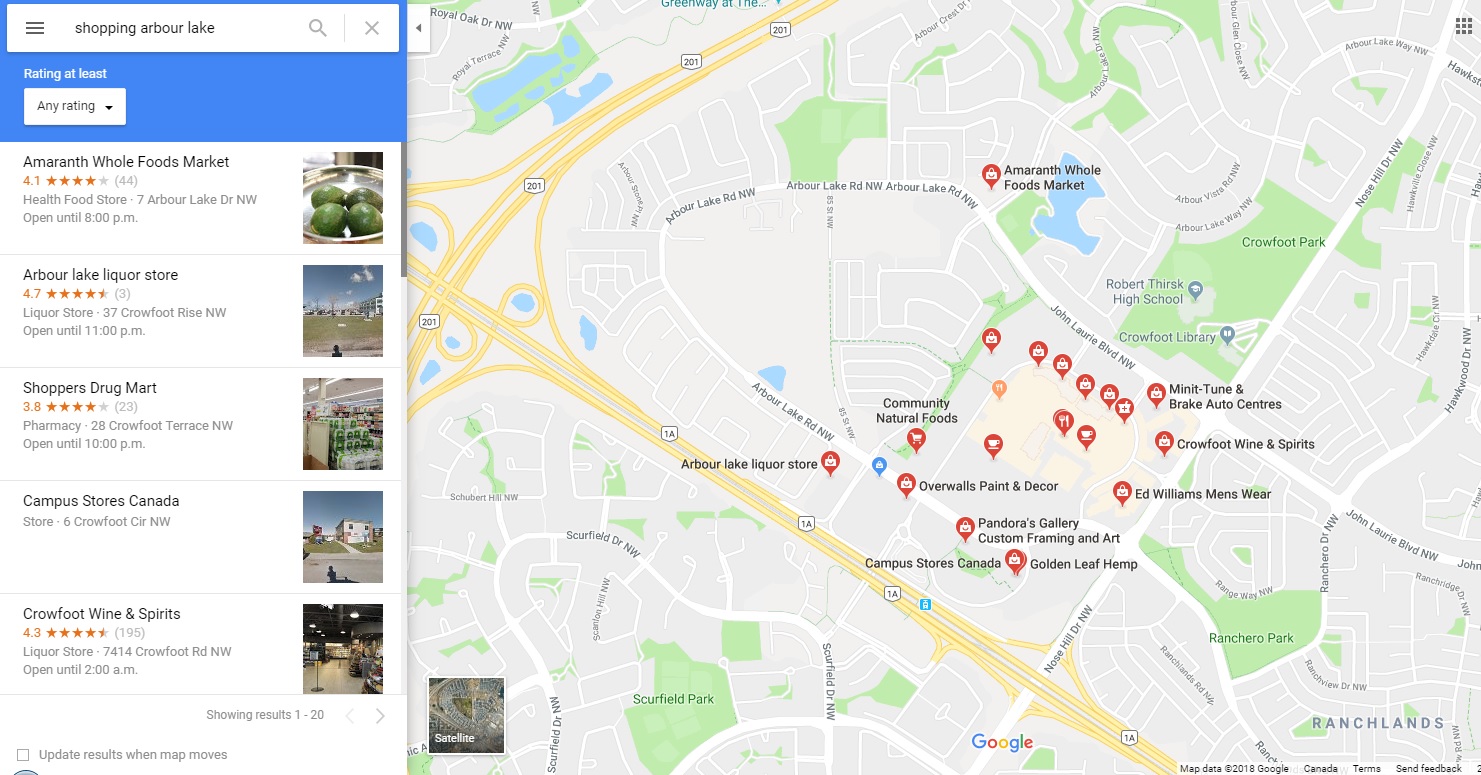 Some communities are very close to major shopping centres such as Market Mall (NW), Chinook Mall (SW), Southcentre Mall (SW), The Core Shopping Centre (Downtown), Sunridge Mall (NE), Marlborough Mall (NE) and Deerfoot Mall (NE).  Signal Hill Community also has a large strip mall (also called a shopping plaza) where stores are located not within one building but have their own stores within their own buildings.
Tip #4: NEW VS OLDER HOMES
If you want to buy a brand new home, that doesn't mean that you have to live on the outskirts of the city. You can buy a brand new infill in the inner city or buy a new property in trendy Calgary neighborhoods such as Quarry Park, Garrison Woods or Currie.
Do you want everything brand new and untouched or are you ok with resale houses that someone else previously enjoyed? Would you ever consider a renovation? Is this something that excites you or would you prefer a property that's low-maintenance and "move-in ready"?  Note that some of these resale homes look better than new homes because the owners kept the property immaculate and well-maintained.
These are all the questions you need to answer. If you are looking for a new property, then check out new communities in the North of Calgary (Sage Hill, Sherwood, Nolan Hill, Evanston, Livingston, Carrington, etc.) and in the West and South of Calgary – Crestmont West, Harmony (in Springbank), Greenwich SW, Aspen Woods SW, Walden SE, Legacy SE, Belmont SW, etc. You can find out more about these communities by reading these free magazines that are available at most grocery stores/coffee shops: Next Home, CondoLiving, and NewHomeLiving.
Tip #5: LIFESTYLE: Inner city vs Suburbs Tradeoff
Are you craving that inner-city vibrant lifestyle with modern, narrow houses and chic backyards + walkable distance to cafes and restaurants and quick commute or do you like suburban lifestyle with its spacious homes with large backyards and garages and lots of privacy outside the inner city core?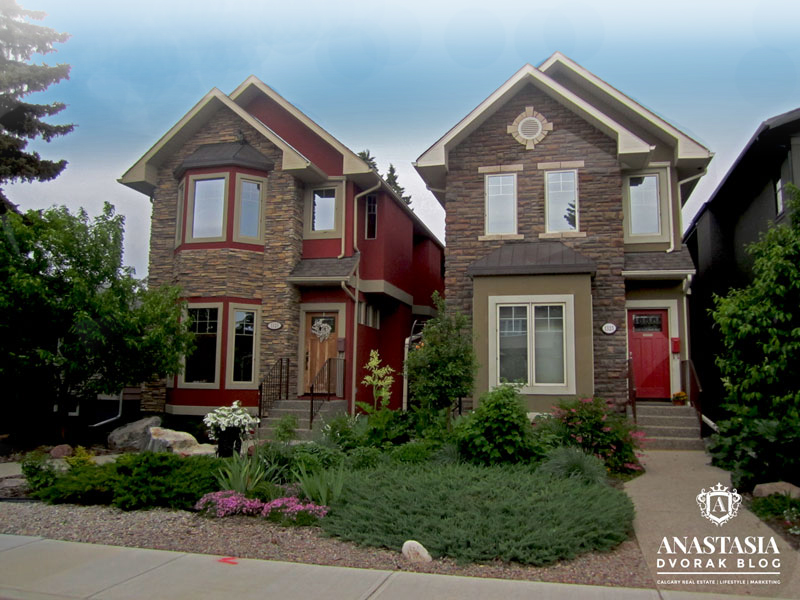 Do you like gardening and mowing your lawn or would you prefer to enjoy the hassle-free apartment living with a condo fee that takes care of it all?
Be aware that most inner city homes will be priced on a higher scale, will have a smaller square footage vs suburban homes, most likely only one parking space or a detached garage, and might have a very small or no backyard at all, and could be quite close to the next door property. On the other hand, these types of properties are typically much closer to downtown, transit, nightlife, restaurants, and entertainment.
These are just two different lifestyles that you need to decide on. So will it be a big house with an attached garage and a large backyard in a nice suburban neighbourhood or will it be a smaller, modern place with a vibrant lifestyle and a quick(er) commute?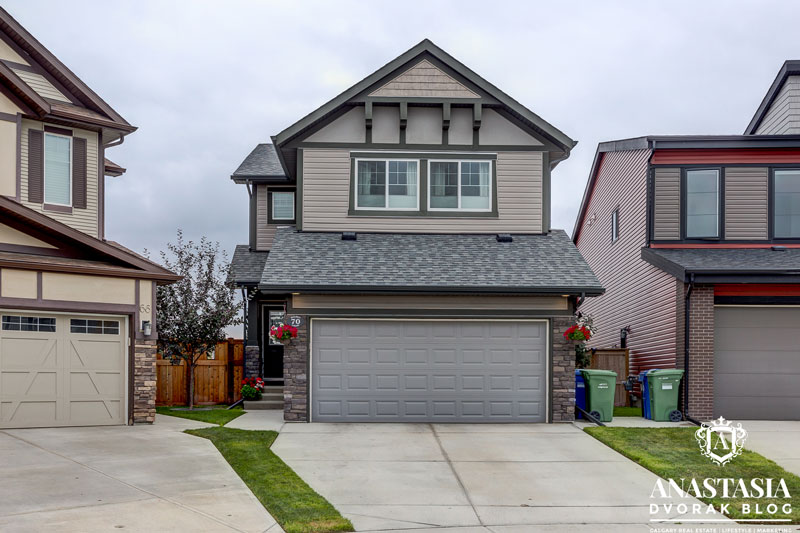 Sidenote: if you want to have it all, then you need to talk to me. It is possible to find a place that matches your interests; however, it might require a more flexible home budget on your end and some research on my part.
Tip #6: DENSITY
From my experience, older, more developed and established communities have a more mature infrastructure, more vegetation, larger lots with big trees, more distance between each house versus some of the newer communities (note: new communities can vary significantly depending on the area they are in).
It is also important to know that some new communities have a much higher density than other communities (for. e.g., Copperfield and newer Chaparral areas). I noticed that in some areas of Copperfield, houses are built quite close to each other and have smaller backyards and less privacy. It is also harder to find parking for your guests in some areas (and even for yourself).
Keep that in mind when you are looking at houses on Realtor.ca. Enter the street address of the property you are interested in on Google Maps and check out a street view and what's around the property and what's behind it. I also highly recommend just driving by the property of your choice during different times of the day (rush hour and weekends). Often times, unflattering views or neighbours are not photographed and are not shown in the MLS listing. t
Tip #7: ENTERTAINMENT & NIGHTLIFE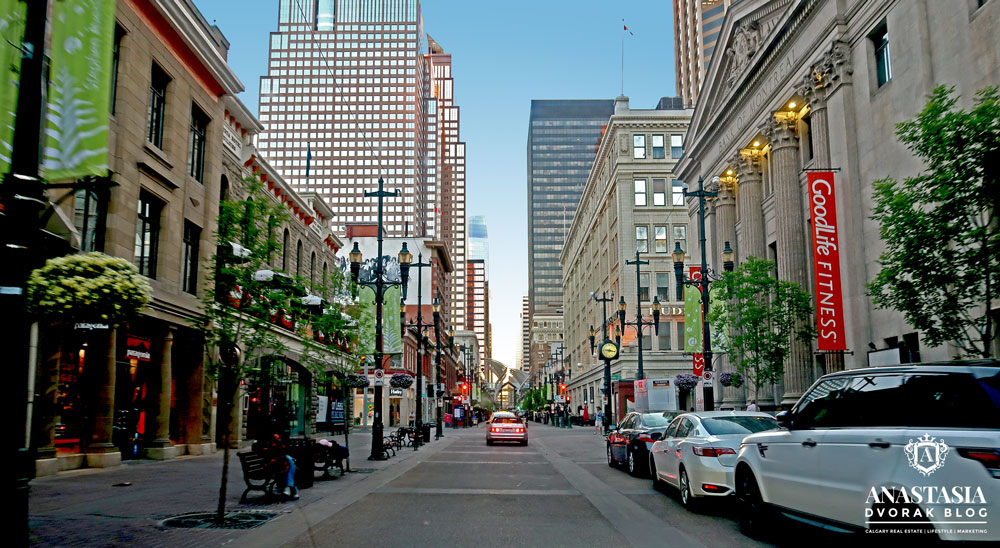 All the activity and nightlife is centered around 17th Avenue (photo below) or the "Red Mile" (SW), Downtown (Stephen Avenue Walk – pictured above), Kensington (NW), and 4th street (SW). According to Calgary Downtown website, Stephen Avenue is known as a "year-round pedestrian experience featuring shopping, restaurants and entertainment venues."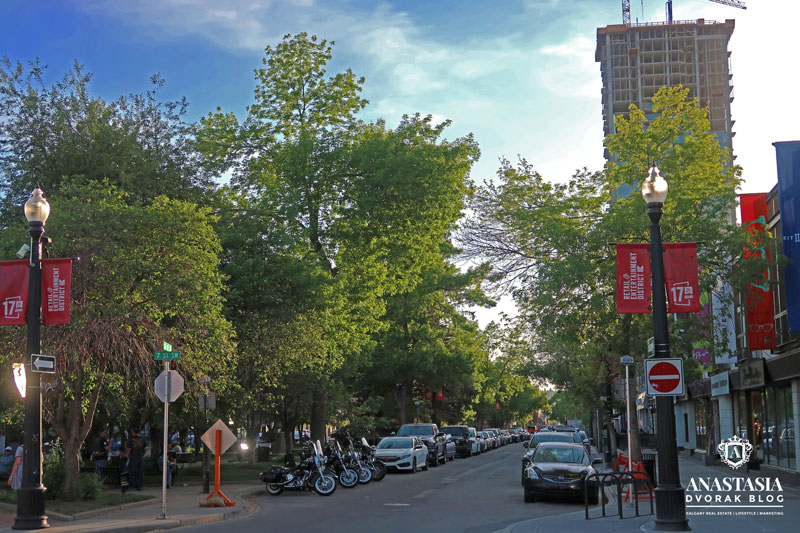 If you want to be close to all the action and you want to walk everywhere, then living in the inner city communities such as Crescent Heights, Bridgeland, Marda Loop, Garrison Woods, Currie, Mount Royal, Downtown, East Village, Beltline, Altadore, South Calgary, and Mission would be great options to consider.
Tip #8: WHERE TO GET MORE INFO
To get familiar with Calgary communities, I recommend reading Next Home, CondoLiving, NewHomeLiving and Home and Land magazines. They are absolutely free and have maps on the last pages that will help you figure out where everything is located. You can pick up these magazines at almost any local Grocery stores (Safeway, etc.), local library or almost every coffee shop.
NEED ADVICE ON CHOOSING THE RIGHT COMMUNITY?
I am a licensed real estate agent/Realtor with CIR REALTY in Calgary, Alberta. I've been in real estate since 2011. Learn about me here.
If you want to get more information quickly and save yourself some time and effort, just send me a message, book an appointment with me (office or Zoom) or send me a text message – 403.835.6913 (I do not always pick up my phone as I am busy with clients, so for the fastest response, it's better to text me or schedule an appointment online), and I'd be happy to help you figure out the best type of property in Calgary for you and your family.
If you are curious about what's on the Calgary real estate market right now and want to know about interesting and fun Calgary events, sign up for my "Calgary Weekly Events in Your Inbox" here: http://bit.ly/yyceventslist
---
What about you? What are your favourite communities and why?
Reply in the comments or tweet me @YYCLivingGuide or Instagram @CalgaryLifestyleGuide
Summary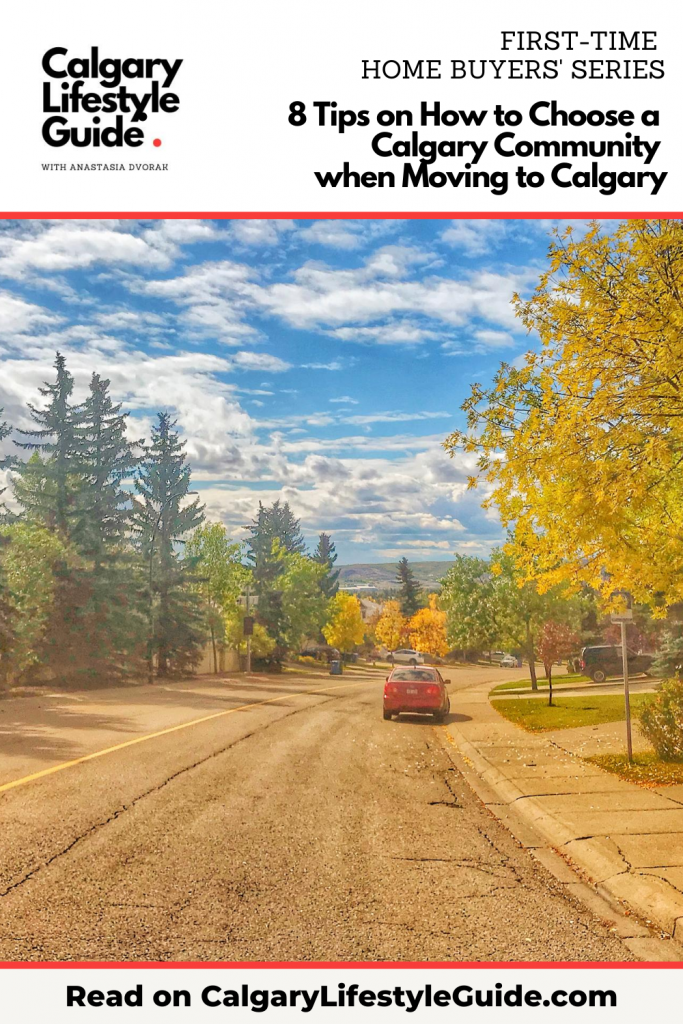 Article Name
Quick Guide on Choosing the BEST Place to live in Calgary - Top Calgary Neighbourhood Guide - Best Calgary Community Advice - Moving to Calgary
Description
Best Calgary Neighbourhoods/ Best Calgary Communities: Moving to Calgary Guide will help you find the best Calgary community to move to!
Author
Publisher Name
Publisher Logo