Crestmont is a unique secluded residential community in the SW of Calgary that's only about 20 minutes away from Calgary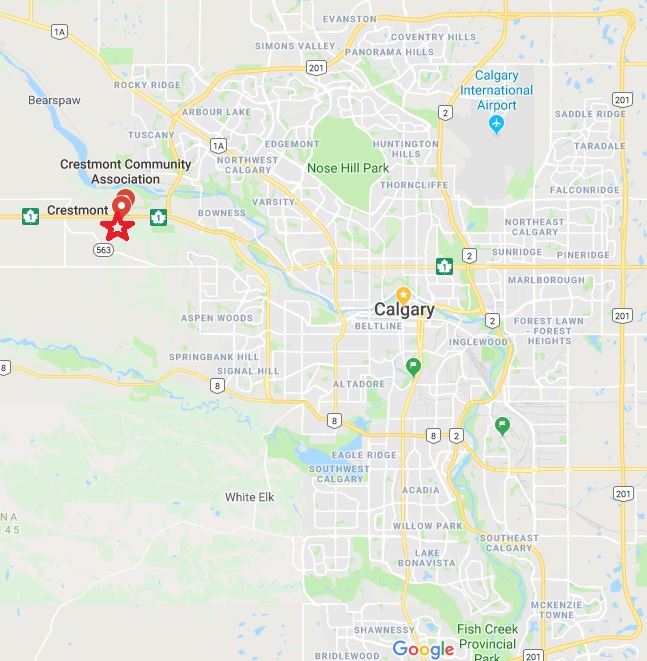 downtown. In fact, many Calgarians have no idea about its existence.
Crestmont is an upscale, family-friendly Calgary Qualico community with homes built in 2000 and newer. It is located on the Western side of the city facing the mountains and is known for its gorgeous views, quiet and peaceful atmosphere, natural landscapes, and proximity to the great outdoors via Trans-Canada Highway. You can be in Canmore/Banff in less than an hour.
Crestmont Amenities
Even though Crestmont has no commercial/retail plazas or any shopping within its boundaries, it is located relatively close to many nearby shopping centers such as Crowfoot, Westhills Towne Centre in Signal Hill, West 85th Shopping Centre (West Springs), and Aspen Landing Shopping Centre.
It is also very close to Shouldice Aquatic Centre, Canada Olympic Park (COP), Valley Ridge Golf Club, Springbank Links Golf Course, Calgary Climbing Centre, and just a 15-minute drive to West Side Recreation Centre. Crestmont Homeowners' Association has a beautiful "Crestmont Hall" town hall that has a daycare, playground, summer water fountain, spray park for children and a winter skating area.
This private Calgary community has numerous walking/biking/hiking paths (6.4 km of walking pathways), 3 playgrounds, 19 community parks, natural elevated areas, and an integrated community pathway system.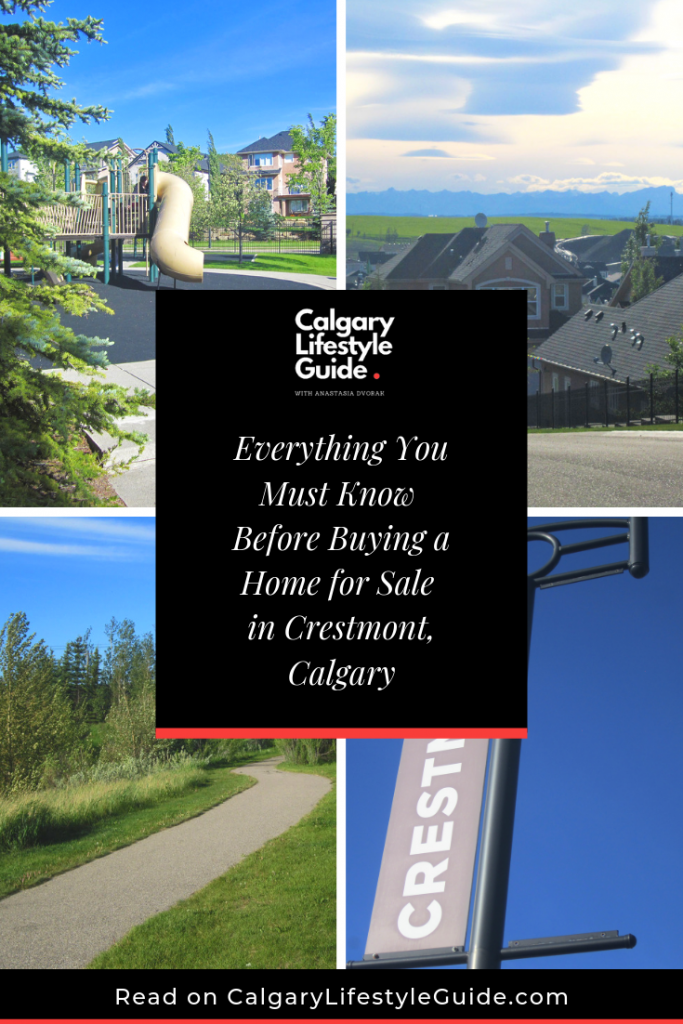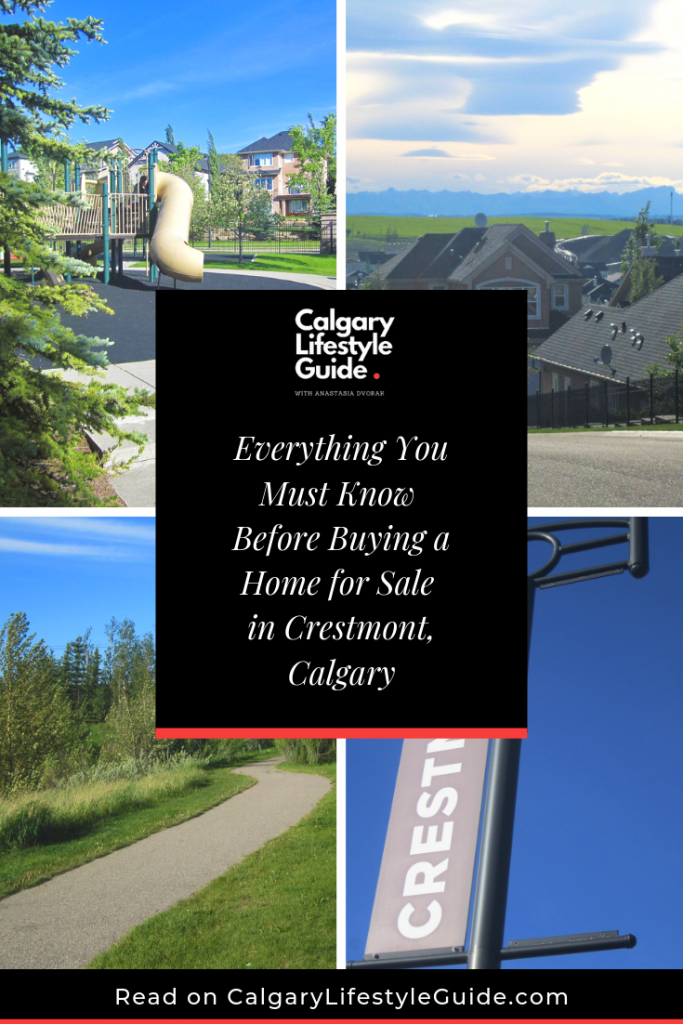 Additionally, the future retail space of Trinity Hills (next to COP) is 8 minutes away and will be opened in Spring 2019. It's also important to note that Crestmont is close to Foothills Hospital, the Children's Hospital and a 12-minute drive to the University of Calgary. Preservation of wildlife and natural landscapes is important to Qualico, the developer of Crestmont; that's why 30% of the community has been reserved for such purposes.
Future Mall Developments
Furthermore, there will be two future mall developments called High Street and Bow Valley Crossing in the area right next to Crestmont after the completion of the ring road in 2025 since this completion will allow for the development projects to commence.
According to the most recent Commercial/Retail Demand and Capacity Study that was completed by Rocky View County, "build out of this development cannot occur until the Valley Ridge /Trans-Canada Highway interchange is upgraded which is part of the West Calgary Ring Road."
Current Construction: Crestmont West & Crestmont View
What's interesting about Crestmont is that its current Phase 9 and 10, which is also called Crestmont West, is being developed by Qualico and will feature a variety of different properties: single-family detached homes, duplexes and potentially townhouses. It's interesting to note that Crestmont does not have any apartment complexes or townhouses as of right now.
NuVista Homes, Sterling Homes, Homes by Avi, Broadview Homes, and Trico Homes are showcasing their collection of single-family homes from $540,000; while Trico Homes is focusing solely on duplexes in the $490,000 range.
Avi is offering bungalow and two-story paired duplex homes in Crestmont with a full landscaping package starting in the $500s with ravine lots, walk-out basements and west-facing backyards.
If you are interested in Crestmont estate homes with 1 acre lots, there are 25 exclusive estate lots currently available in the north part of Crestmont that's bordering the Artist's view community and is called "Crestmont View".  Augusta Fine Homes and Calbridge Homes are the available builders for those particular lots. To learn more about this luxury part of Crestmont, visit Crestmont View's website here. 
Two parks are currently under construction and due to be opened to the Crestmont public this year. One large central  Crestmont park will feature 3.5 acres of naturalized and well thought out landscaping, active and passive play areas and many pathways. The north park will be more tranquil featuring pathways and sitting areas surrounding the future pond.
There is also new access to Old Banff Coach Road that opened in Fall 2018 and created the connection between Crestmont, Crestmont West and West Springs communities.
According to Cheryl Heilman, Qualico's Marketing Manager, Crestmont West is featuring a variety of different showhomes that have their own unique style. You can choose from "Mid-Century Modern, French Country, Contemporary, Tudor, Colonial, and Prairie architectural styles."
One last important note: be aware that in the future there will be a higher-end/luxury community of West View that will be developed on the farmland that's facing Crestmont West. You might not always get that mountain view, but it may take a couple of years for that development to commence.
Crestmont Community
Crestmont has a very tight-knit Crestmont Community Association that hosts a variety of fun and engaging events such as Community Celebration Days, Neighbour Day Block Party, Crestmont Clean-up, Crestmont Kids Day and the Kids Halloween Party. You can also rent the Crestmont Hall for a wedding or some other special event. One of my favourite events is the yearly Crestmont Christmas Market that usually happens sometime in November at the Crestmont Hall.
Demographics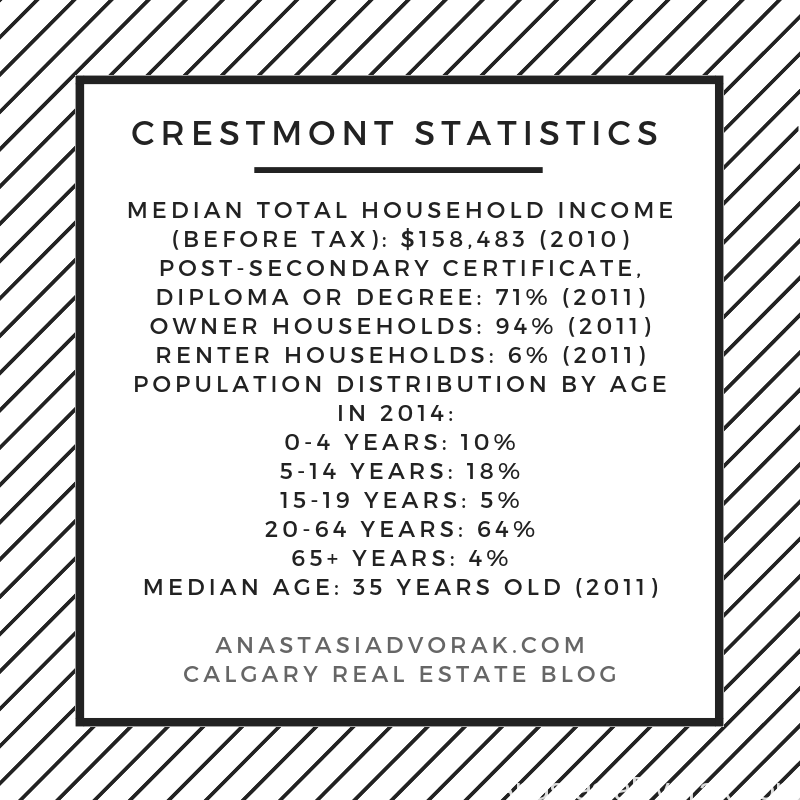 19 Things You Must Know about Crestmont
1. The Vibe: quiet, upscale and peaceful. With the construction nearby, that might not be the case anymore, but it depends on where your future property is located in Crestmont.
2. Quadrant: Calgary Southwest (SW).
3. Homeowner's Association (HOA) fee: $300 + GST annually
4. Bus:  Bus route 408 will take you to Brentwood Ctrain in about 30-33 min
5. Positive Aspects: a quiet, beautiful community with gorgeous mountain views, close to the mountains and Stoney Trail
6. Challenging Aspects:  no shopping inside the community; no Ctrain station nearby; ideally a car is preferred to navigate this community; no nearby schools within the community; construction zone right now in one area of Crestmont; only two ways to enter/exit the community (via Old Banff coach access + TransCanada Highway);  you may hear some noise from the highway traffic (depends on where your property is located).
7. Types of Properties: right now, it's all about detached single-family homes; with the new development in Phase II, there will be other options available – duplexes, townhouses, + luxury estate homes. Fun Fact: Crestmont doesn't have any apartment complexes. It also doesn't have any facilities for Calgary seniors (no senior care/no retirement homes). However, it's very close to the Lodge At Valley Ridge Retirement Residence.
8. Demographics: Younger vibe, professionals and families.
9. Shopping: none in the community, but it's a short drive to the nearby shopping areas.
10. Schools: none in the community, but it's a short drive to the following schools: Belvedere Parkway School *Regular (K-6), Bowness High School *Regular (10-12), Thomas B. Riley School *Regular (7-9), Traditional Learning Centre (TLC) (6-9).
11. Child Care Services: 2 daycare facilities
12. Proximity to Calgary Downtown: 20 min
13. Age of Homes:  2000+, 2018+
14. Recreational Amenities: Spray Park, Hockey Rink – outdoors, Skating Rink – outdoor, Playground/Pathways, Sports Programs
15. Close to: Canada Olympic Park, Westside Recreation Centre, Crowfoot YMCA, Shouldice Pool, Valley Ridge Golf Club
16. Fun Facts: Yearly Craft Fair + Tight-Knit homeowners association. Community Celebration Days, Neighbour Day Block Party, Crestmont Clean-up, Crestmont Kids Day and the Kids Halloween Party. Crestmont Hall can be rented out for weddings and events.
17. Luxury/Estate Home Builders: Augusta Fine Homes and Calbridge Homes. For more information on Crestmont View, visit CrestmontView.com.
18. Homebuilder Brand New Homes: Trico Homes, Sterling Homes, NuVista Homes, Homes by Avi, Broadview Homes, and Partners Development Group. If you want to learn more about building your dream home and what's currently offered, visit Crestmont.ca. If you want to save some time, just get in touch with me and I'll help you find the right home for you.
19. Crestmont Slogan: If Crestmont had a slogan, it would be "Escape the City within the City".
---
What about you? Do you like Crestmont?
Reply in the comments or tweet me @YYCLivingGuide or Instagram @CalgaryLifestyleGuide
Summary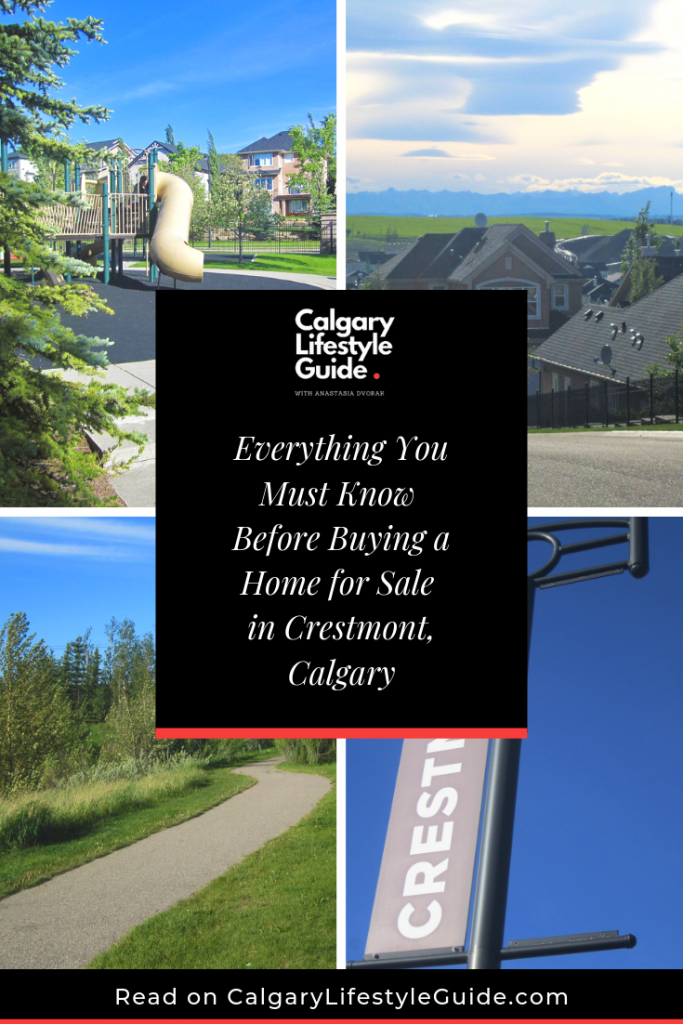 Article Name
Crestmont Calgary Neighbourhood Guide: Schools, splash park, directions, showhomes - it's all here!
Description
Crestmont Neighbourhood Guide: shopping, transit, demographics, schools, homebuilders, bus routes, attractions, daycares, and types of properties. Everything you must know before buying a home for sale in Crestmont, Calgary.
Author
Publisher Name
Calgary Lifestyle Guide with Anastasia Dvorak
Publisher Logo