According to the recent CREB Report, Calgary's housing market has shown signs of recovery after a traumatic year, but the road to stability will still require some time. While the job numbers are improving, the economy still needs to gain more strength.
Even though the vibe among the industry members has been overall very positive with busy open houses for certain properties and lots of market activity, we have to consider each individual scenario for each property type. Detached sector of the market has shown much more positive results than the attached/apartment sectors.
Detached Properties (aka Stand Alone Houses)
First Quarter of 2017 CREB report revealed that in terms of the detached properties, the housing market is entering balanced market conditions due to a period of stability in which the demand and supply are becoming more balanced.
According to the CREB's chief economist, the detached market conditions have shown some serious improvement; while the apartment segment still continues to struggle.
The improvement of the detached housing sector over the past two years can be attributed to the fact that sales have improved, but, at the same time, fewer listings have been coming onto the market, thus reducing the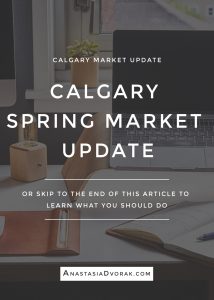 inventory and creating a stable environment for the home prices.
Prices have remained relatively stable as shown by March 2017 detached sales results, which increased by 17% compared with March 2016, and, at the same time, the detached housing inventory declined by 25% (people are selling fewer houses).
Apartment/Attached Sector (Condos: Duplexes, Apartments, Townhouses)
The apartment/attached sectors have suffered even further due to increased competition from brand new condo developments. There is a substantial amount of new apartment projects under construction, and it's difficult for the builders to quickly react to the changing market conditions as they cannot stop the construction midway through the project.
The developers were inspired to build during the boom of 2014 before the oil prices collapsed. The demand for these projects was driven by bullish economic conditions and high demand/low supply, which, in turn, facilitated $100 per barrel of oil.
The fact that there was a 400% increase in new apartment units completed and unoccupied year over year with more than 800 new units on the market today compared with 222 the same time last year shows the extent of the problem we have with the apartment sector in Calgary (stats: CMHC – Canada Mortgage and Housing Corporation).
Nevertheless, in the first three months of the year, the sales for the apartment/attached properties increased compared with the same period in 2016. However, the effect on prices has been negative – they have continued to fall over this time period year over year.
What does that mean for you? (note: these are GENERAL recommendations – each property is unique and requires an individualized approach).
If you want to buy a house: well maintained well-priced houses sell quickly. If you found a house that you love, I would recommend that you put in an offer quickly. I've seen a couple of instances where the house was sold literally hours after the agent listed it.
If you want to buy a condo (meaning an apartment, townhouse, or a duplex with condo fees): know your power – your Realtor can negotiate hard for you and there is a great chance that you will get what you want. Considering the amount of completed condo projects we have this year and the rising apartment inventory, the buyer is in the position of power. There are simply not enough buyers for all of these brand new condo projects + resale condos. With so many choices to choose from – from current resale inventory to brand new projects – buyers have a variety of properties to choose from.

If you want to sell your house: it's a great time to sell your house. The buyers are finally a bit more comfortable with the economic situation and are actively looking to buy properties. I think it's a good time to put a detached house on the market.
If you want to sell your condo (meaning an apartment, townhouse, or a duplex with condo fees), my advice is simple: don't do it unless you are prepared to lose some money. Right now is not the best time to sell a condo, and if you have an option of waiting, you should wait. Rent out your condo or keep living there. Of course, it all depends on the type of property you own and I still keep selling condos and they do sell, but it does take time and there is a good chance that you will get a low-ball offer that your agent will have to work with. If you do get an offer, take it seriously.
If you do want to sell a condo and purchase a bigger property, I think it's a good idea to sell your condo and lose some money on it BUT, as a result, you would be potentially getting a lower-priced, larger property that you wouldn't have been able to get in 2014. The prices are still good for detached homes, and I think buyers should take advantage of this time. We don't know how long it will last.
Save