#1: One of the largest yearly farmer's markets in Calgary Northwest
If you live in the northwest of Calgary and don't want to drive all the way to the largest farmer's market in Calgary located on Blackfoot trail, you have to visit Bearspaw Lions Farmer's market that happens every Sunday from 10am-2pm starting on the 1st Sunday in June and it will continue until the first Sunday in October unless this Sunday is part of the Thanksgiving weekend, in which case, the market will end on the last Sunday in September.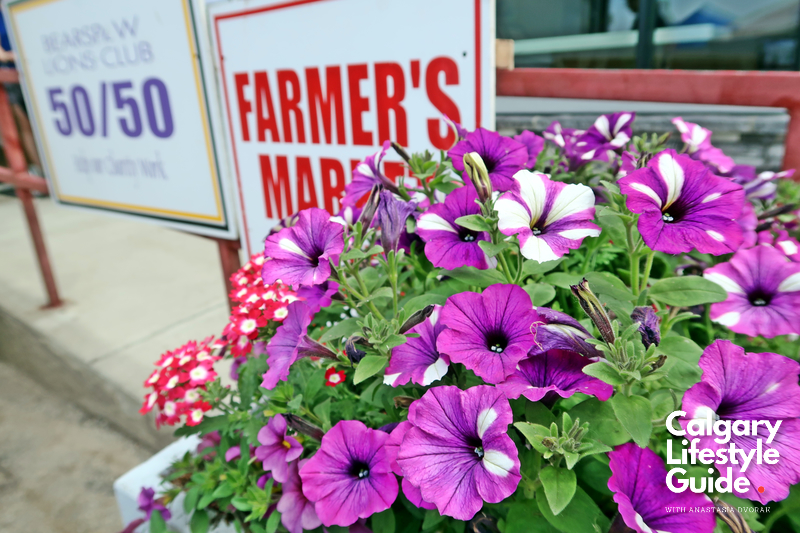 It is located at 25240 Naqway Road, and it's easy to find as it's located right past Rocky Ridge community on the right side of the road.
It's quite hard to miss it when you are driving by as there are always a lot of vehicles parked on the side of the road during farmer's market hours. Though don't fret, parking is not an issue.
#2: Featuring over 150 Vendors that sell local, fresh, organic, home-made + artisan products
There are over 150 vendors that feature local, fresh, organic, home-made, artisan products and gifts for the whole family and attract yearly over 41,000 visitors. From locally-farmed honey, desserts, kombucha, fruits and vegetables, poultry, meats, baking, home décor, clothing, bags, books, jewelry, succulents, chocolate and much more. The choices are plenty. You will often find a couple of food trucks there serving everything from Ukrainian meals to Mini donuts.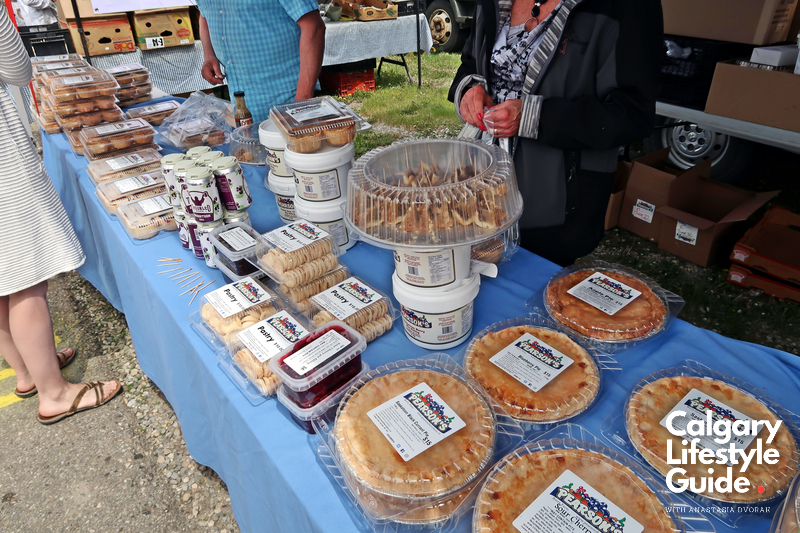 #3: Lions Hall features additional vendors and yummy brunch/lunch!
Most of the vendors are outside but there are also 10 great vendors inside the recently renovated Lions Hall. The Bearspaw Lions Community Hall could be rented for your private parties, weddings, business gatherings, or for community events.
During the market, a caterer inside the Lions Hall provides a great, reasonably priced breakfast and brunch/lunch from about 9 AM to 2 PM. Several of the outside food vendors also sell food you can eat at the market.
#4: Bearspaw Lions is a charity organization that helps the youth, children, and people in need
This 25-year old Farmer's market is run by the members of the Bearspaw Lions Club. The club is part of Lions Clubs International, an International 100-year old service club with 45,000 clubs and 1.44 million members around the World. Lions Clubs are run by men and women volunteers who spend their time on health and social programs, and on helping the people in need and supporting the youth. Since the club's initiation in 1953, it has given over 2 million dollars to local Calgary charities and charitable causes (including Calgary Women's Emergency Shelter, Children's Hospital, Children's Wish Foundation, and many others).
#5: This market supports local Calgary businesses and you can apply to be there next year!
According to Bearspaw Lions' website, "Farmers' market vendors must be primarily Alberta-based people who mak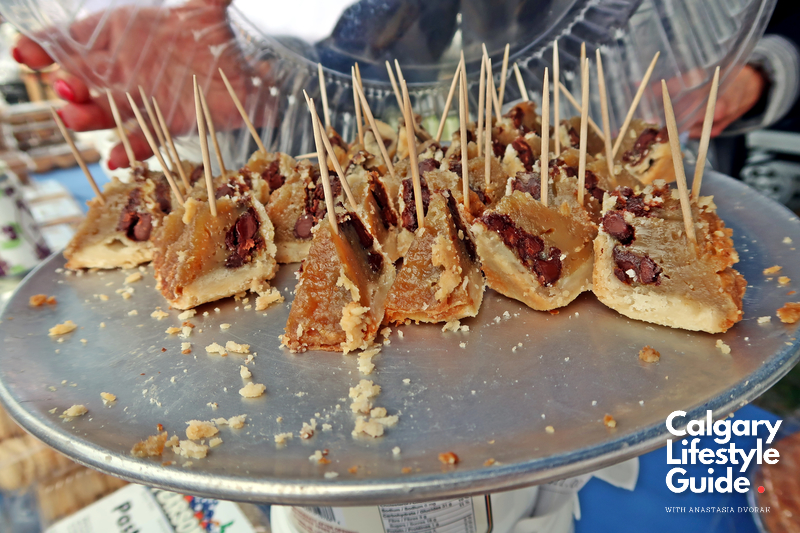 e, bake, or grow in Alberta what they are selling.  At least 80% of the vendors at a farmers' market must fall into this category.  The other 20% can be vendors who buy and resell commercial products like clothing, health and body care, Tupperware, Norwex, Watkins and other similar products or out-of-province vendors.  The Bearspaw Lions Farmers' Market allows no more than one vendor for each of these types of products. Jewelry, furniture and similar items sold at the Bearspaw Lions Farmers' Market must be made by the vendor in Alberta. "
For more information about this local Calgary farmer's market, please visit their Facebook Page 'Bearspaw Lions Community Hall', their Instagram @bearspawlionsfarmersmkt or their website: http://bearspawlions.com/
Here are some of the vendors that I've had the pleasure of getting to know a bit better:
Pearson's Farm
Duane and Debbie own Pearson's  Farm. They make the best butter tarts I've ever tried! Visit their Calgary store at the Crossroad Farmer's Market. It's open every weekend!  All their products are made fresh at their Alberta Farm "where the bakers enjoy the sweet aromas of freshly baked pies, butter tarts, and muffins throughout the year." The "Farm" includes a Saskatoon Berry Orchard, where, in the summertime, you can come and pick Saskatoons, visit their cafe for pie and ice cream, use the PlayGround and purchase their amazing desserts.
Web: https://pearsonsberryfarm.ca/
Instagram: @pearsonsberryfarm
Shaw Z Chocolate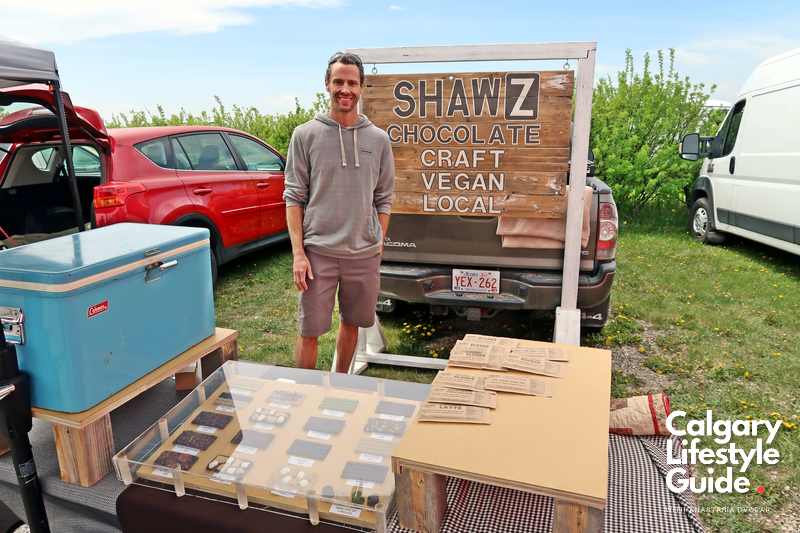 Ian is the owner of ShawZ Chocolate. He manufactures chocolate from bean to bar here in Calgary. He is passionate about simple flavours and natural ingredients. All of Ian's products are DAIRY FREE + VEGAN. Ian uses all-natural, usually organic ingredients, and no GMOs whatsoever. He never uses food colouring, numbered ingredients, or artificial flavours or preservatives. All of the ingredients that ShawZ use are disclosed either on the product packaging or on the website.
Ian has been studying the chocolate industry since 2004 and through coursework and hands-on experience, he started to make chocolate from bean to bar. He imports unique cocoa beans and cocoa butter to make his delicious chocolate. Currently, Ian is using beans and butter from the Camino Verde plantation in Ecuador and the Sur del Lago region of Venezuela. The cocoa beans are roasted, cracked, winnowed (de-husked), stone ground and refined with sugar, cocoa butter, and vanilla, and conched in his commercial kitchen. He then forms the chocolate into different bars and bonbons and packages them for his customers to enjoy!
Web: https://www.shawzchocolate.com/
Instagram: @shawzchocolate
Good Stuff Maple
Robert and Joyce sell pure Quebec maple syrup in Calgary. As they say on their website, "none of this maple flavoured corn syrup or blended maple syrup nonsense." They bring pure Quebec maple syrup – or the real stuff – to Calgary. All of the syrups that Good Stuff Maple Products sell are straight from founder – Robert Desbiens' f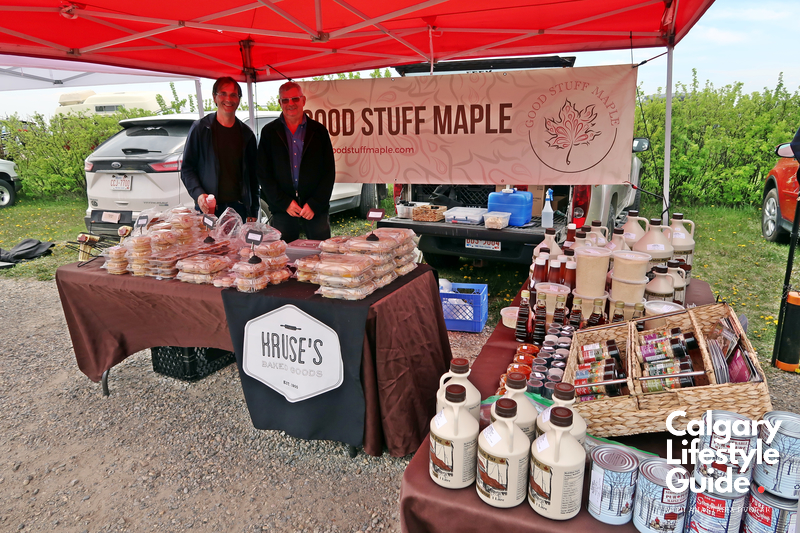 amily farm in Rimouski, Quebec. They are 100% pure and have no water, sugar or glucose added. You can find them at the various Calgary and area Farmers Markets and have a taste of their delicious maple syrup or fall in love with their maple cinnamon rolls or maple butter tarts.
Web: https://www.goodstuffmaple.com/
Instagram: @goodstuffmaple
Sabores
Sabores is a well-known Mexican restaurant in Cedarbrae that also sells its amazing homemade sauces, dips, salsas, and tortillas at various farmer's markets in Calgary. Sabores seeks to bring to Calgary the magic of authentic Mexican cuisine combined with contemporary culinary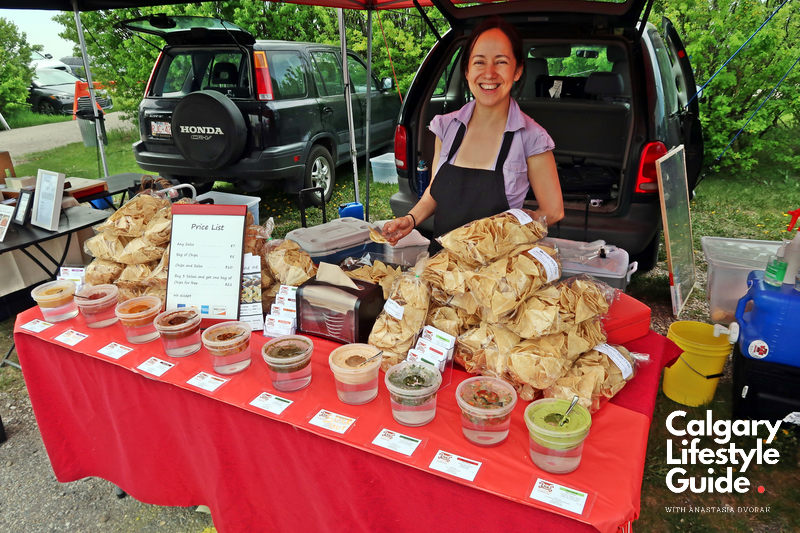 techniques while leaving time-honored culinary traditions intact. You will experience an entirely new way of enjoying your favorite Mexican dishes. Sabores will introduce you to extraordinary dishes that evolve into edible art. Sabores which translates to flavors represents all the sophisticated textures, ingredients, and colors that comprise the Mexican cuisine. It seeks to share with the world a piece of a culture that has lasted for generations on end. At Sabores the Mexican cuisine is delightfully diverse, strongly regional, and always bold.
Web: http://sabores.ca/
Instagram: @saboresmexicancuisine
Going Nuts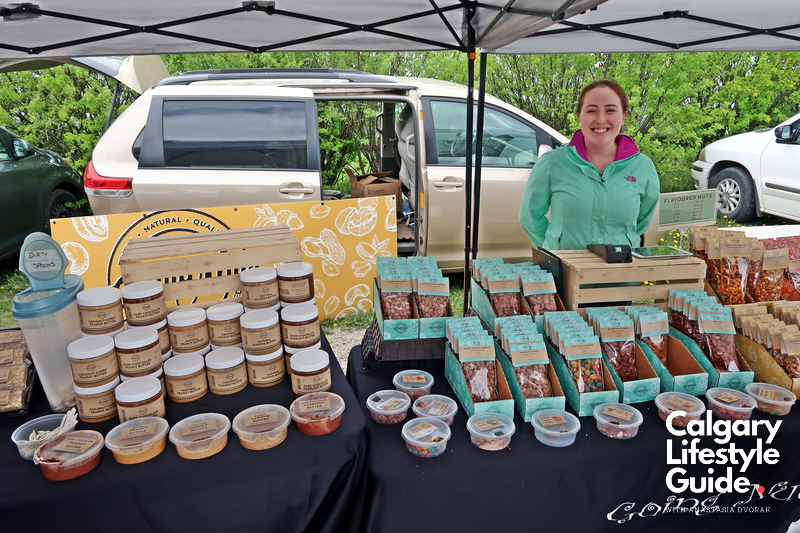 Chris and Brenda's entrepreneurial spirit and passion for serving Calgarians with unique products lead them to open Going Nuts in 2004. Originally based at the Calgary Farmers' Market in the Currie Barracks, Going Nuts started with only 3 flavours of nuts – Cinnamon Almonds, Curried Chili Cashews, and Ginger & Spice Pecans. The company has grown substantially over the years and now operates in markets and retail locations across Alberta. Going Nuts is a family-owned and operated business based in Calgary, Alberta. They specialize in creating handmade flavoured nuts, granolas, granola bars, date bars, nut mylk, and nut butters. Produced weekly, they strive to offer their customers the freshest quality products.
Web: https://goingnuts.ca/
Instagram: @goingnutsyyc
Buzzy Bee Honey
Bert and Carole started Buzzy Bee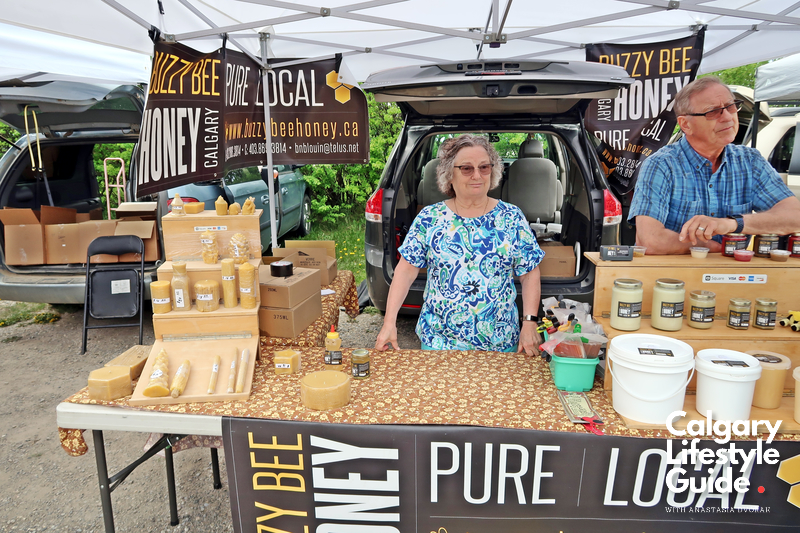 Honey in 2001 by placing a donated swarm of bees in their backyard in Calgary NW. Buzzy Bee is a Calgary Apiary producing a very limited amount of high-quality natural honey and honey products. Upon realizing how delicious natural honey tasted compared to honey purchased at the supermarket, or even from health food stores, Bert and Carole proudly supplied their family, friend, and neighbors with our surplus honey. Over time they were able to take advantage of the indulgence of farmers who have kindly invited them to place hives on their land in the Bearspaw and Airdrie areas. Eventually, they were invited to sell honey at some local Calgary farmers markets where they proudly continue to provide a variety of honey and bee products to our city.
Web: https://www.buzzybeehoney.ca/
Facebook: @BuzzyBeeHoney
Bowden Farm Fresh Chicken
I've been buying Bowden Farm Fresh Chicken online for many years now. The best part is that they conveniently deliver it to your front door in Calgary!  Bowden Farm Fresh Chicken is a family-owned and operated 3rd generation poultry farm owned by Richard and Chrissy Dick and their children – Myranda and Brandon, providing Calgarians with chicken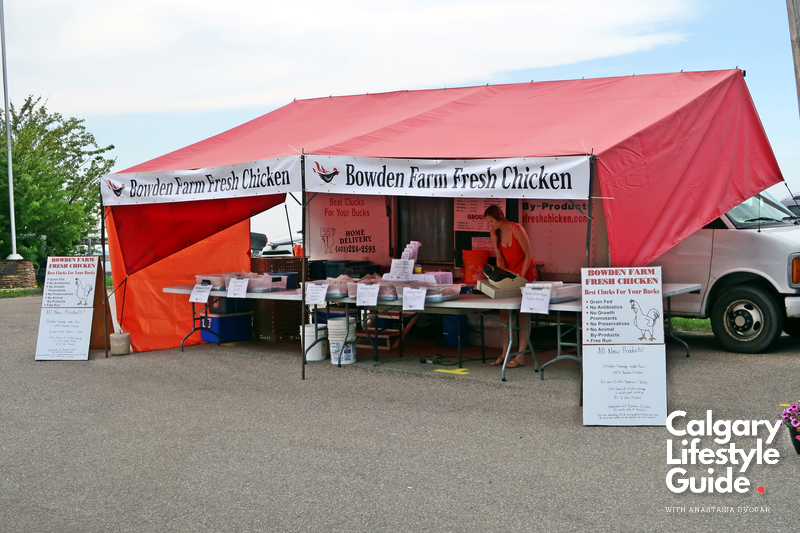 year-round that is free of hormones, steroids, antibiotics, preservatives, and animal by-products. Never once offering antibiotics, hormones, growth steroids, preservatives, or animal by-products in the feed, Bowden Chicken still produces some of the finest all naturally raised chickens and turkeys in central/southern Alberta. You can visit them at many farmer's markets they visit or buy online here (free delivery in Calgary). 
Web: https://bowdenfarmfreshchicken.com/
Instagram: @bowden_chicken
Photos of the Bearspaw Lions Farmer's Market (click to view a larger photo)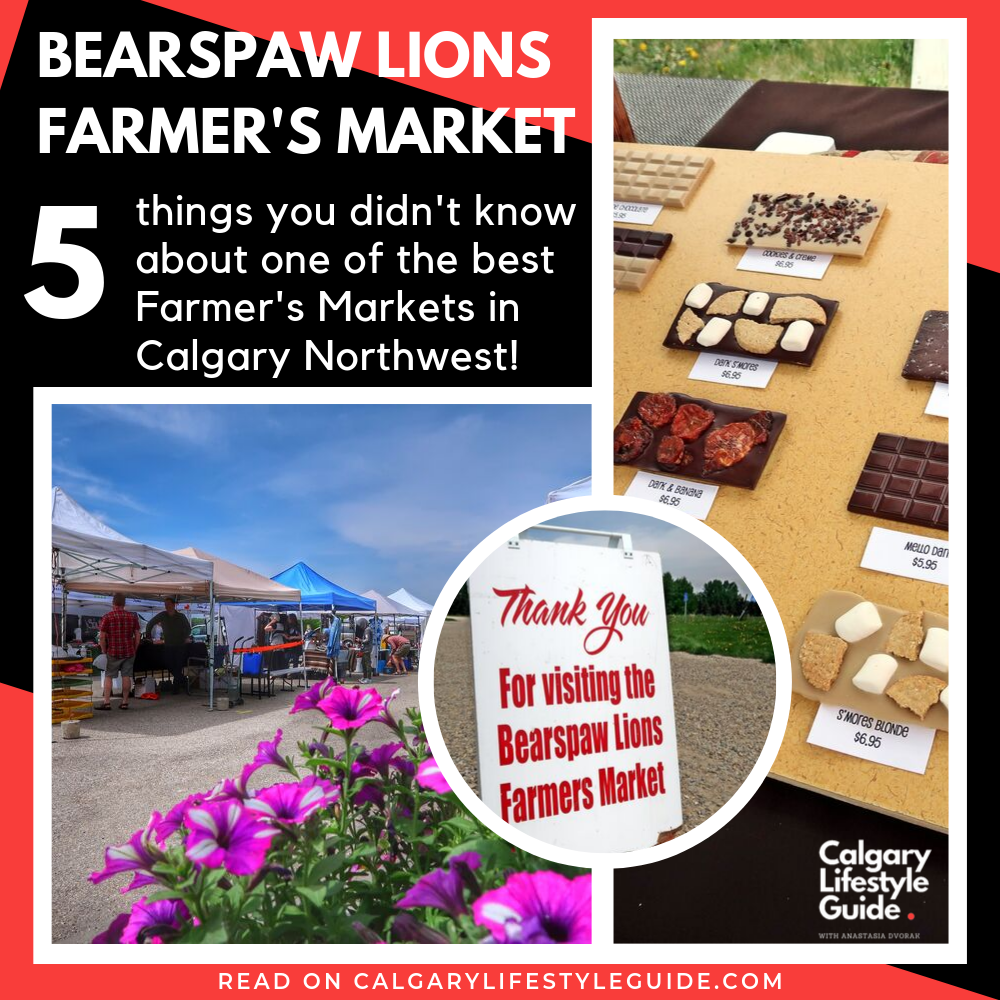 Summary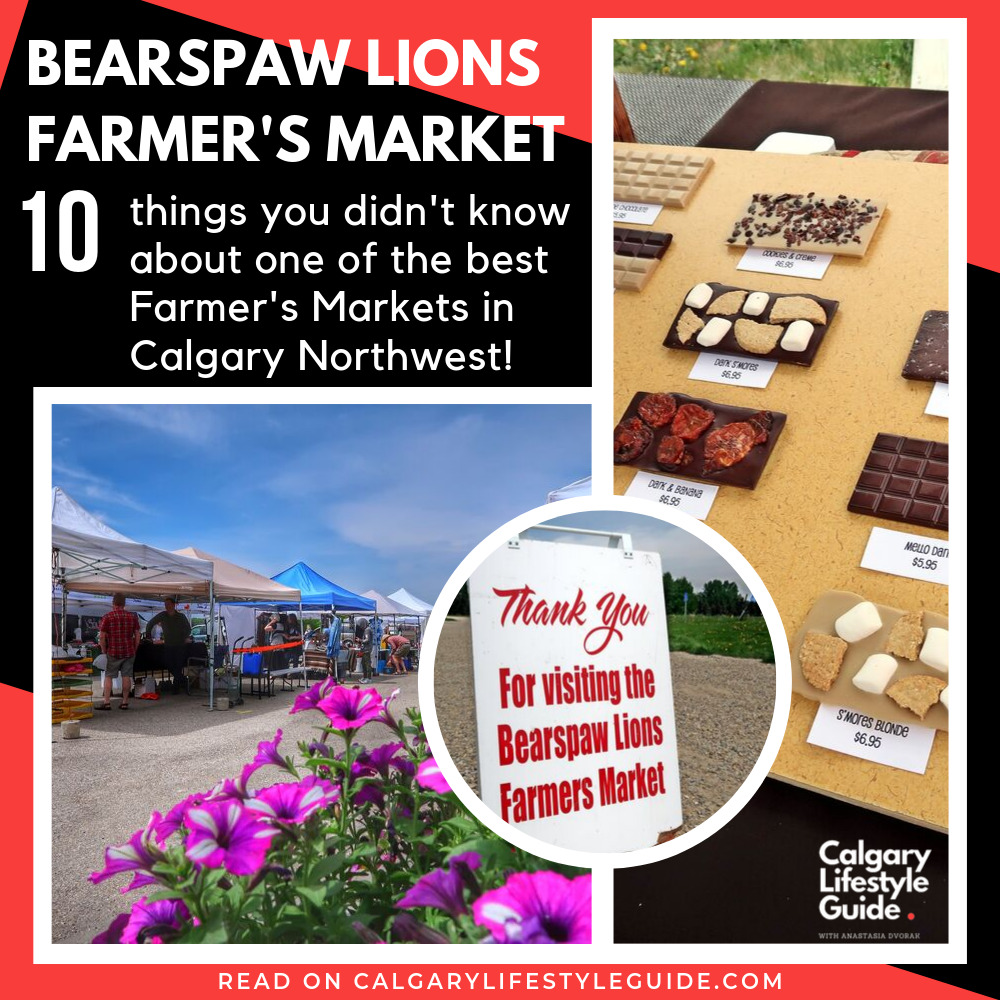 Article Name
5 Things You Didn't Know about Bearspaw Lions Farmers Market in Calgary
Description
Learn more about one of the best Calgary's Farmer's Markets in NW: Bearspaw Lions Farmers Market in NW Northwest of Calgary.
Author
Publisher Name
Calgary Lifestyle Guide with Anastasia Dvorak
Publisher Logo